Dancing for some, is therapeutic while for some, it is merely an activity to remain physically fit. And let's just say that dancing is one of the most fun ways to remain fit! Dancing promotes flexibility, strength, tones the muscles, and fine motor skills. However, people who dance also learn the importance of caring for their instrument and treating their bodies well.
Just like so, Mehar Bano a Pakistani actor, filmmaker and dancer has been leaving her fans completely speechless by posting her crazy dance moves on her Instagram account! What inspired Mehar Bano was the classical dances influenced by the subcontinent era that got her into this. Moreover, her inspiration shifted from classical to hip-hop and which came from watching Michael Jackson and Beyoncé at their concerts.
Oh! We know their captivating moves are enough to grab anyone's attention! 
Mehar loves posting her dance videos on her Instagram account and here are the two recent ones
In an interview, Mehar Bano said, "Being an inspiration to others would mean everything to me. For once, I will be able to tell someone that they are not alone in a world that is still getting used to the idea of a beautiful expression such as this and they should never think twice about being who they truly are. In my own little way, I'm doing my part in reviving the styles that were once lost and the ones that are now globally evolving."
But just recently, Mehar came into the limelight for all the wrong reasons the moment she posted her dance video! Mehar
And this one!
But apparently, our Pakistani awaam didn't approve of her dance moves and went bonkers in the comments' section!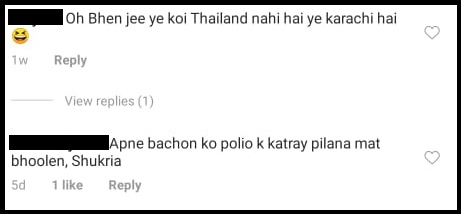 This is sad.. Matlab kuch bhi?
Astaghz..

Excuse me?

This is extremely disappointing to see how easy it is for us to judge someone on the basis of social media posts and on something which they love to do. This needs to stop and people should now start focusing on their actions.
Have more to add to the story? Let us know in the comments below!