What is life without a friend? Absolutely dull and depressing indeed! We can't imagine having to spend the most important time of our lives without trying out every silly and adventurous thing with our Besties before life takes a serious turn.
Life seems all fun and games until the day arrives when you are about to exchange vows at your wedding saying "Qabool Hai". Not to say that it's doom's day, but life takes over a new turn and its nothing like it was before.
You move to a new place with a new family, with different traditions and policies that you must abide by, not necessarily but in most cases…yeah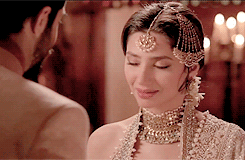 Anyhow, imagine it's your wedding day and your bestie is living abroad and can't make it…as terrible as it sounds, it's the worst feeling of not having your buddy around not just on the wedding day but before the big day, during the actual preparation of the wedding, the bridal showers, the shopping and literally any activity that has to do with the wedding!
This happened with this gorgeous lady we're going to tell you about. It was her wedding but her bestie wasn't there to attend it as she had moved out to Canada…quite upsetting when we read that at first. Turns out, her friend did something very special that not everyone is able to do due to a lot of reasons such as travel expenses, time and of course the efforts to actually travel from one side of the world to the other.
She flew all the way from Canada to her friend's wedding without informing her and surprised her by showing up at the venue. This left everyone at the wedding and even us with teary eyes…
Have a look at this video:
Isn't that beautiful?…..Hope our BFFs surprise us like this on our wedding day. Would leave us crying and ruining all of our makeup…not.
What do guys think of this lovely surprise? Let u know in the comments down below.