Pakistanis can be very entertaining and they never cease to amaze people with their hilariousness and crazy talent they've been gifted with. No kidding! And let's be honest here about the fact that the internet can be crazy place to be at! I mean, ever thought about the wickedness you come across on a daily basis? LOL. Yeah, exactly.
Anyway, we recently came across a tweet where a Pakistani guy found an American look-a-like of our founder, Quaid-e-Azam Muhammad Ali Jinnah! And trust me here, the resemblance is uncanny! But wait, WHO was that American? It was none other than Jeffree Star – An American male beauty vlogger, makeup artist, entrepreneur, and musician, who also happens to be the founder and owner of Jeffree Star Cosmetics.
Here's the picture Jeffree had posted that caught our Pakistani bhai's attention!
 Hiiiiiii Monday, how are ya?? pic.twitter.com/KrD7vZAmJQ
— Jeffree Star (@JeffreeStar) December 17, 2018
However, this sneaky guy tried to be really funny when he found Jeffree's picture on Twitter!
Quaid is that you? https://t.co/RUfZkbxY7S

— Adil (@AdilGhumro) December 17, 2018
Jeffree after finding out…. LOL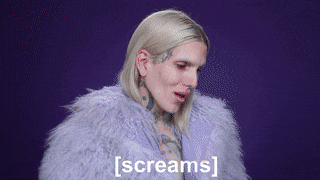 Pakistanis can really think now. Isn't it?
Some people found it to be reallyyyy hilarious….
I want to get offended. So disrespectful!! But not gonna lie, I loled ??

— thankful (@ammo28) December 18, 2018
What do you think?
the resemblance is uncanny ??

— no. (@dafahojaoo) December 17, 2018
People were having a good time!
holy shit kshalsjahakaha

— moinlight (@scribbleknighht) December 17, 2018
Damn…
HAHAHAHAHA FML??????????

— NIMRA KHOKHAR? (@nimzeex) December 17, 2018
and on the other hand, some found it to be insulting…
I will take that as an insult of my quaid

— Mr. Chips (@SamiSha30610709) December 17, 2018
Uh oh…
No son, this is your father!!

— Meem (@meem_gnome) December 17, 2018
Dil pe lelia aapnay…
He is jefree star. -_- m that waznt funny when u compare him with Quaid

— Irraxox (@Snook_Girl_) December 18, 2018
Naraz nahi hotay….
Aapki soch py Lanat

— UsmanGul (@UsmanGul1979) December 18, 2018
Sorryyy!
That's rude. Respect your elders

— Zain Uddin (@UddinZain1) December 17, 2018
Yaar, aap dekhen tou?
Respect plzzzz its not funny at all

— Ehsan (@Mahsanfarooqi) December 17, 2018
Too serious!
Mila do, me kuch nhi kehta, quaid pay bht laraian kr chuka hun school college uni har jga…

— Koba ? (@Asad9zeb) December 17, 2018
This is indeed funny and sad at the same time. But hey, he actually resembles him. What's the matter in it? Don't you agree with this? If you do, let us know in the comments below!