For the past few months, social media has been going crazy with videos of a cute little Pathan, Ahmad Shah clad in a white school uniform and glasses just like Harry Potter! The kid, Ahmad Shah, became viral seconds after a video of him getting angry in his classroom and arguing with his teacher asking her to return his backpack made waves on the internet!
Remember this video?
However, after the video had gone viral, most people thought that it was highly inappropriate of the teacher who recorded a video of her student without his parents' consent and posted it on social media. Whereas, on the other hand, many thought of it as the cutest video on the internet!
And well, little did we know, this would be the start to Ahmad's fame! Right after this, Ahmed was invited to many morning shows where the hosts provoked Ahmed by taking his toys and snacks so he could react. *slow clap* for our mahaan hosts.
The level of badtameezi was at its peak and the awaam absolutely hated it. Watch the video below!
And now, here's the latest video!
Well, it sure seems like this usually happens when the Nida Yasir's around. This time, Ahmad Shah and Nida's family were playing "Cheel Urhi" with the little one, when all of a sudden, Ahmed asked Yasir Nawaz to come closer to him just so he could slap him when Yasir had lost the game. Not just Yasir, but Ahmed even slapped his own brother for apparently no reason at all as seen in the video.
Pakistanis are not liking this at ALL.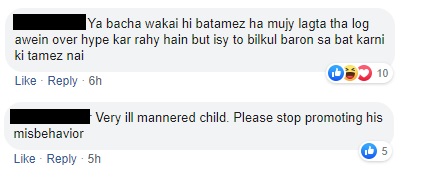 Indeed.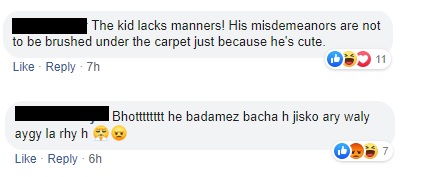 Glad how people know the difference between what's cute and what's badtameezi.

Cuteness on one side and manners on the other, it's about time Ahmad's parent take extra care of the upbringing since he's at a learning stage. As humans, we need to stop appreciating such unmannerly behavior of a child terming it as "cute" and give this kid fame and attention for all the wrong reasons.
What do you guys think of Ahmad's latest video? Let us know in the comments below!