Recently, American travel blogger Alex Reynolds alleged that she was silenced during the proceedings of the Pakistan Tourism Summit (PTS) for being too critical as per the likings of the organizers.
She mentioned about her being not facilitated with appropriate protocol in the summit by saying that the authorities suppressed her voice when she was speaking about the strict scrutiny which a foreign traveler faces while visiting Pakistan and its regions those are not easily accessible to commoners…
The cusp of her talk was to highlight those issues which she believe must be addressed by the Government of Pakistan in order to make Pakistan more tourist-friendly and better its image worldwide. During the entire video, Alex could be seen complaining several times about Pakistani authorities not willing to accept any sort of critical analysis on their campaign regarding the promotion of tourism in Pakistan. She portrayed as if she is forcefully hired to promote Pakistan by painting a so-called false canvas…
Read Also: Foreign Food Bloggers In Lahore
But, upon digging deep into the story, we found out that actual reality might contradict to her words a great deal… The scenario offered a twist when the official Facebook handle of the Pakistan Tourism Summit shared the videos of all the participants of the summit where travel blogger Alex could also be seen given ample opportunity to inform the authorities exclusively about her concerns via detailed presentation…
Here is the link to the original content shared by the official Facebook handle of PTS
Not very surprisingly, the people on Facebook were stunned when they found out about the reality being in drastic contrast with what Miss Alex uttered during her video. The anxious followers took to the comments section to express their confusion…
Countless followers were puzzled…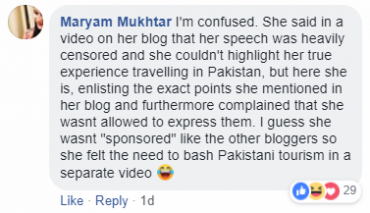 Few saw it as a popularity stunt…

Some even suggested that the organizers take action!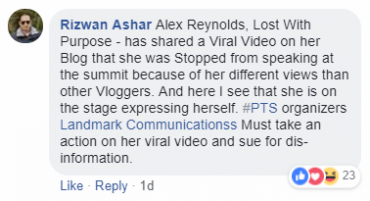 Adding more to the drama, pictures, and videos showing Alex meeting with Prime Minister Imran Khan have popped up. And yes you guessed it right that she had all time in the world during those meetings with the Honorable Prime Minister to discuss with him her concerns, which she says are meant to better Pakistan's attempt to promote tourism. Drawing more perplexity to the scenario, many have questioned the credibility of the American blogger who is followed by approximately 10K Facebook users…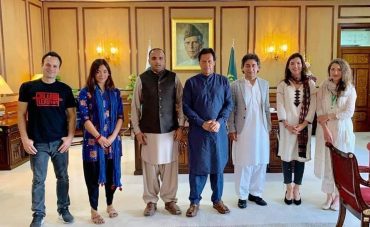 Tell us what you think about Alex Reynolds, Lost With Purpose… And what potential measures you think the Government of Pakistan shall take to boost the country's tourism industry…
Watch Alex's video message here
Read Also: RECENT SANDSTORM IN KARACHI