Ever since the 14th of February, Pakistan and India have been at each other's neck, and this charade was hyped by media entities present across the border. What initially started with just a blame game, turned for the worse, when India decided to trespass into Pakistan.
However, with the Pakistan Army alert as always, with a timely response, the colts in green shunned and stunned their counterparts, making headlines all over the world after downing an IAF jet. This also led to the capture of Abhinandan Varthaman, an IAF Wing Commander.
Being the flagbearers of peace, Pakistan handed over the Indian pilot within 2 days, upholding the Geneva convention and sending a message and offer of peace to India.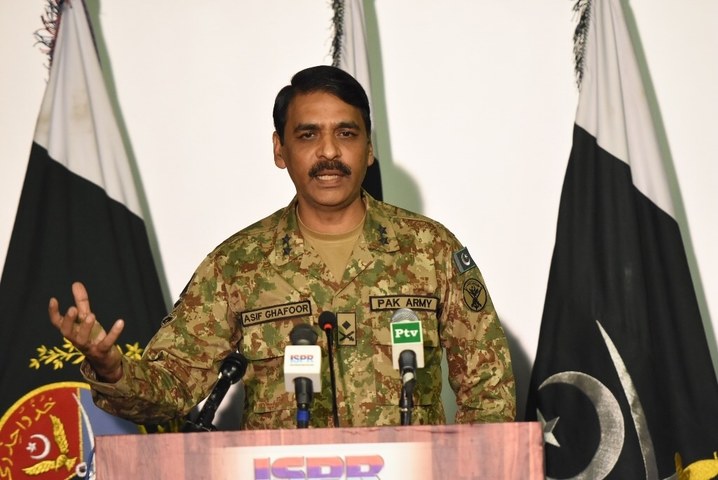 Even after this act of kindness, India did not back down from spreading all the 'NAFRAT' they could. To mark it, the Indian cricket team wore Army caps in a cricket match, against Australia, politicizing the game.
However, when the time isn't right, nothing works for you. That's what happened to India in cricket as well. A Pakistani origin cricketer, Usman Khwaja, single-handedly thrashed the Indian cricket team, winning the series and the cap of the tournament.
After his recent innings, DGISPR Asif Ghafoor took the opportunity and trolled India so bad, we bet they will NEVER be able to recover from it!
Here's what he wrote on Twitter!
Very well played yet again #UsmanKhawaja
Your 100 at excellent STRIKE rate made the difference. You gave excellent performance during last three consecutive ODI contests to CAP the series. pic.twitter.com/r4f6V5ROn9

— Asif Ghafoor (@peaceforchange) March 13, 2019
Highlighting the words STRIKE and CAP, our brilliant DGISPR literally made us roll on the floor, directing his response so subtly, that only the ones with a wit would be able to capture his message. One really needs to read between the lines in this particular case!
Ever since the tweet came out, it has been going viral and Pakistanis are absolutely loving Asif Ghafoor for being such an intellectual gem in our army.
This is how people are reacting to Asif Ghafoor's troll of India!
— Xahoor Bhat (@bhat_xahoor) March 13, 2019
Hahahahaha this CAP is certainly interesting and India must be worried

— Shan-ul-Qadir 🇵🇰 (@Shanulqadir) March 13, 2019
hahahhah. Sir indians k zakhmoo pr namak chirakhty huy😉😉

— SherDill Khan (@Squad_Leader130) March 13, 2019
Hahahah DG sir is not coming slow, I request you to please invite him to Pakistan for giving him an honour for keeping our heads high. 😂

— Asaad Gul Awan (@markhor_2019) March 13, 2019
Petition to invite Usman Khwaja for the 23rd March ceremonies. 🤣💥@peaceforchange#MajorUsmanKhwaja 🇵🇰
#INDvAUS

— Rosie_Gabrielle 🇵🇰🇨🇦 (@RosieOfficial6) March 13, 2019
How do you feel about Asif Ghafoor's perfect troll of India? We know we absolutely LOVED it! 😀