It seems like you just can't please people no matter what you do and how hard you work. Someone or the other will certainly have something or the other that they just don't like about you.
Every other day celebrities are criticized and slammed on one thing or the other. From Mehwish Hayat to Komal Rizvi – each celebrity has endured the comments and sarcasm of people.
A recent victim of this situation was the Karachi Se Lahore actress Ayesha Omer who has flaunted her inner wanderlust with some great travel pictures and we're digging her versatile fashion sense in every picture. Although, some users did not appreciate her pictures and decided to share their unwanted opinions.
Have a look at the pictures Omer shared and we kid you not they'll be a feast to your eyes!
Look at that view!
Doesn't she look hot here?
Women – please note down some style tips!
And this is how people responded to her pictures:
Umm…?
This is a sad, sad country…
Great insights…NOT
WORD!!!
This user decided to take a stand for Ayesha and dang!
To that above comments, Ayesha responded saying, "thank you for your kind and beautiful words. It's people like you amongst these haters that make it all worth it. Gotta keep fighting for change. "❤️❤️❤️

And another one!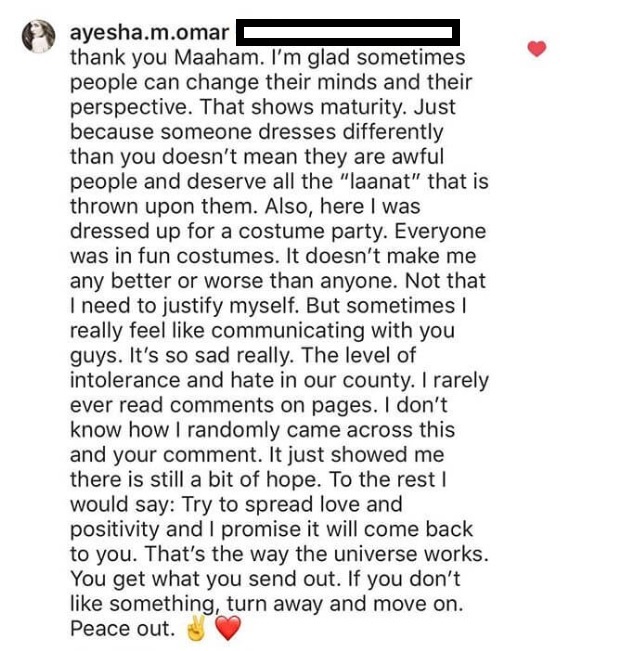 It's great to see how some people still know how to stand for the right what surprises me the most is the fact that people sit at home and do absolutely anything they wish. If you don't like someone, just unfollow their page and give yourself and them some sanity.
Why do people comment on pictures and post if they dislike it so much? (Shaking my head)
Ayesha is one of the most successful actresses/model of our industry and it's about time we open our minds to the change and growth, but then again if some of us are unable to do so, they can very easily just ignore the social media updates and move on!
Social media does have its perks and the cons, as cliché as it sounds – YOLO and we suggest that Aysha Omer should just be herself, keep her head high, maybe brush off all the negativity, keep her fingers crossed for much better days and more trips where she can eat all the cheese and pizza and chocolates (food gets us excited) and have a ball at the beaches and spas!