K-town is filled with love in the air, Pakistan's favorite couple just celebrated their wedding anniversary and we are awestruck! And it is none other than Ayeza Khan and Danish Taimoor.
If you remember, this couple's wedding took media by storm as their photoshoots and events were as gorgeous as the couple themselves! Well well, it's been four years already and it does feel like yesterday! They have been blessed with two adorable kids, and they definitely are the coolest family!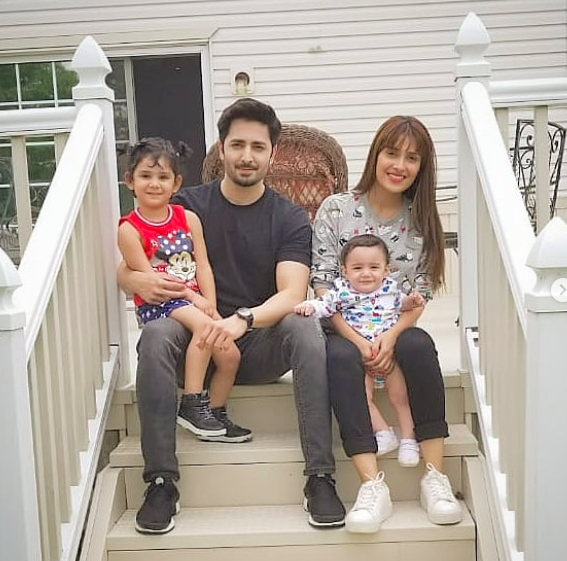 And it was only last night, this couple celebrated their wedding anniversary and we can't get over them!
Let' take a look!
AWWW! <3
HAAYEE..COUPLE GOALS!
Danish Taimoor and Ayeza Khan then added pictures on their Instagram with beautiful captions!
And obviously we can't miss that!
Danish posted,
"In case you didn't know..
Baby Iam crazy about ya..and I would be lying if I said that i could live this life without ya even though I don't tell you all the time..
YOU HAD MY HEART LONG LONG TIME AGO..
in case you didn't know..
HAPPY ANNIVERSAY…
4 saal guzar gaye lagta hai kl ki baat ho!"
THIS IS SO SWEEET!
And Ayeza's wish was really cute! While she was thankful for a wonderful husband, she couldn't resist mentioning how shy Danish is!
Ayeza posted,
"By your side and in your arms, this is the best way to spend my life forever ?
Happy 4th wedding anniversary @danishtaimoor16
And honestly i was not expecting the post from you because i know how shy you are to express your feelings infront of the world but see after 4 years you are becoming "Me" hahah, things do change in better way ofcourse and you know what i was feeling shy reading that post while sitting infront of you hahaha aa nai rahi Tabdeeli agai ha ?
Thankyou for holding my hand through this life, thankyou for the love and friendship.
And most of all, thankyou for the pleasure of being your wife.
Sach bataon: Asal Pyar shadi k baad he shuru hota ha us se pehlay sirf "i love you" hota ha ?"
HAHA..AWW SUCH A LOVELY WISH!
Danish and Ayeza are definitely giving us major couple goals, we wish them a very very happy anniversary, and pray they remain in love forever!
We would like to know what do you guys think about this?