Pantene Hum Showcase 2019 was a success where 7 renown fashion brands of Pakistan displayed their collections. This was Hum Showcase's third edition powered by TUC. Emraan Rajput, 9Lines, Image and Deepak & Fahad were some of the brands out of seven.
There were several actors that walked for these designers and the famous and much raved about actor Imran Ashraf was also a part of this show. He stopped for designer Emraan Rajput. Along with Imran, another familiar face among the actors we know was Faryal Mehmood.
Faryal Mehmood who is also an actress and a composer known for Baba Jani (2018), Enaaya (2019) and Mera Yaar Mila de (2016) walked the ramp for the designer Rizwan Beyg's in one of his handcrafted coutoure collection piece; she was also the person to open HUM Showcase 2019. Faryal on her Instagram to express her gratitude to be given this opportunity and confessed how she might have gotten addicted to the ramp walk.
Here's What She Said On Her Instagram
Her Ramp Walk
#FaryalMehmood opens the show for #RizwanBeyg at #PanteneHUMshowcase #HUMshowcase19 #ruraltotherunway pic.twitter.com/YpWrqbVCJ8

— Showbiz & News (@ShowbizAndNewz) April 20, 2019
People Were Upset And Outraged
A Twitter User Tagged Imran Khan And Conveyed Her Concerns – "Behayai Per Pabandi"
@ImranKhanPTI jb tk mehngai ka kuch nhi hotaa tb tk television pr dekhaiibdene wali behayai ko to rokaa jaa sktaa haii ye tasveer model faryal mehmood ki haii jo hum showcase k ramp pr lii gae haii ap se drkhaast haii k iss qism ki behayai prr pabandii ayed ki jae shukryaa pic.twitter.com/hfeyIxNm29

— Hafsa Farooq (@Iamhafsafarooq1) April 21, 2019
Here's What Went Down On Her Instagram Post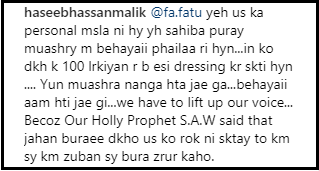 Some Decided To Teach Her Some Morality And Modesty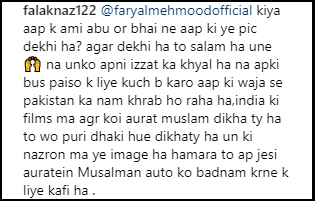 This is just sad…

Look what do we have here…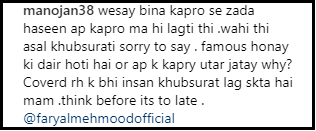 Faryal just gave her haters the look… 😛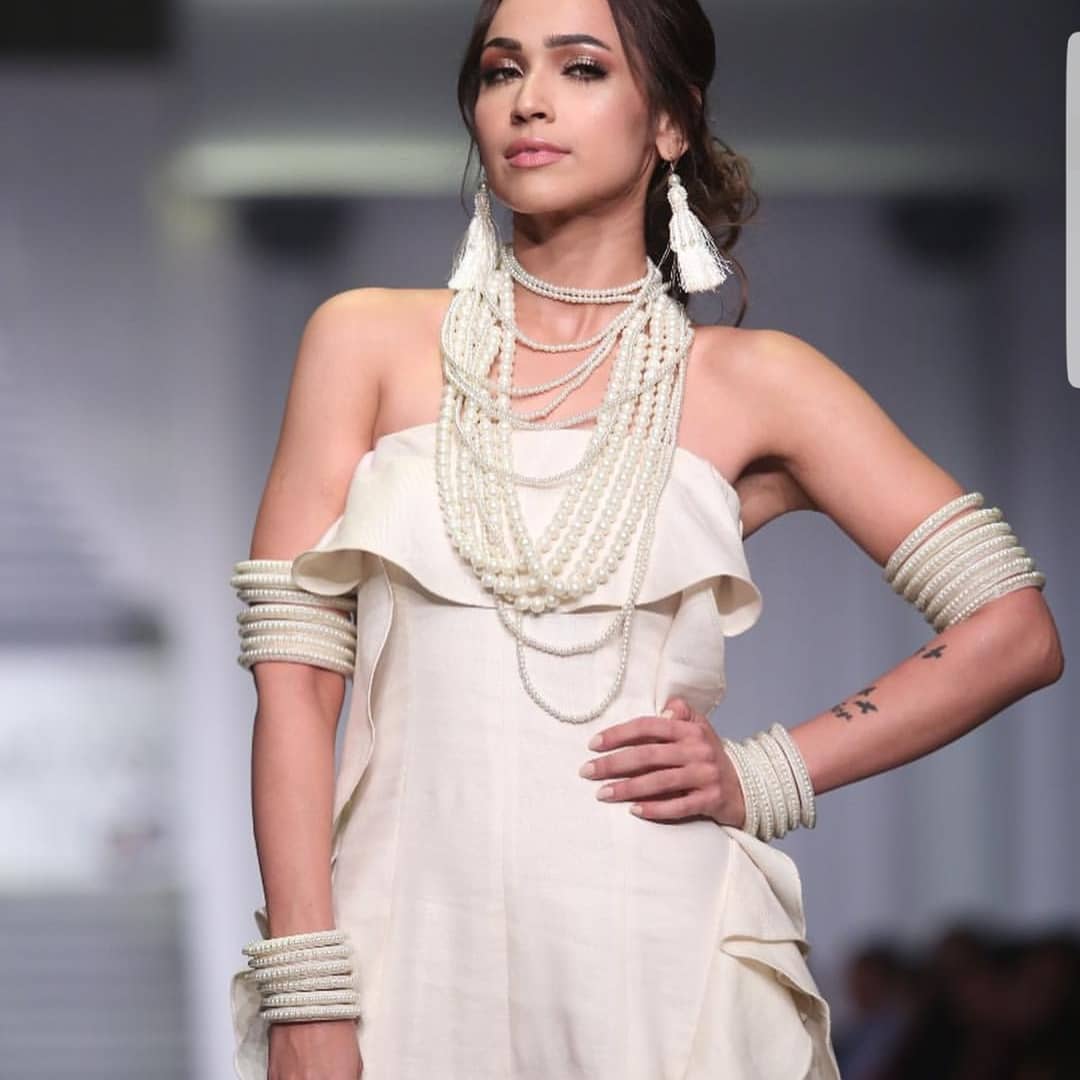 This is one side of the coin. There were users that defended her and supported her. 
One user addressed to all the commenters that were unhappy with Faryal and reminded them to worry about their own deeds. 
"Ab yhn sary judgmental hojaingy.. Sb galiyan dyengy usko sb sedhy rasty dekhany aajaingy.. Bhaiyo or bheno phly apny girban me jhank lo or sedhy rasty dekhany k liye insan ko khud b pak hona prhta hai taky wo is laiq ho k wo ksi py tanqeed krsky or ksi ki dil aazari krny sy gunah Allah ny b rkha hai… Khud b gunah sy bachain… Or usko b jeeny dein wo apny aamal ka hisab khud dy ap me sy koi nhi dyga… @faryalmehmoodofficial you look gorgeous ❤️"
Another user supported her and made the point that they need to live and let live. 
"I don understand why people are always sooo negative about others!!!! they don't have a right to judge others! whatever someone's profession is, let them live.. Life is always surrounded by haters…. doosron par tanqeed kernay say pehlay chk ur self who all you are!!!"
So what do you make of all this? Which side are you on and how would you justify your stance? Let us know in the comment section below.