In this technologically advanced era, the internet has made humans dependant on it. From buying groceries to socializing with friends, everything requires the support of digital platforms. Since the evolution of the Tik Tok application, the young generation has found easy access to fame. Earlier today, famous Pakistani Tik Toker Hareem Shah got caught in an investigation for recording videos inside the Foreign Ministry.
Tik Tok star Hareem Shah recorded videos inside the Foreign Ministry committee room!
Perhaps, this is not the first time Tik Tok star Hareem Shah is seen pulling off her imbecile strings in front of the world. Last month, the Tik Tok celebrity along with her friend Sundus allegedly harassed government minister Fayyaz Ul Hassan Chohan. Recently, a probe got launched against Hareem Shah for recording Tik Tok videos inside the Foreign Ministry.
Video of Hareem Shah sitting in the Ministry of Foreign Affairs instantly went viral on social media!
Since the video caught numerous eyeballs on the internet, Pakistanis have a lot of questions rising in their minds. Currently, social platforms are filled with comments on Hareem Shah's trouble-free access to the government office. As per media reports, after the Prime Minister's office took notice of the matter, Foreign Ministry officials have launched a probe against Hareem Shah.
Hareem Shah's 'easy' meeting with Pakistan's political personalities!
Soon after the Tik Toker's video circulation on the internet created chaos among the masses. However, the Tik Tok star is often trolled over the internet because of her naive activities. Apparently, Hareem Shah got famous after her Tik Tok videos with several political personalities went viral on the internet. Till now, the Tik Toker has met Prime Minister Imran Khan along with PTI leaders Sheikh Rasheed and Jahangir Tareen.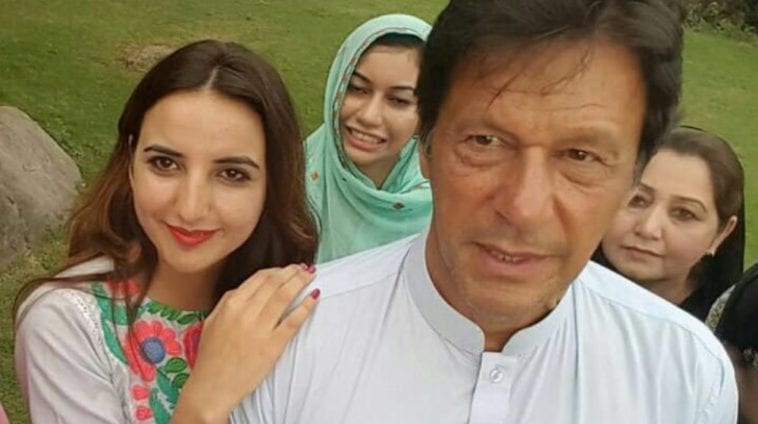 Particularly, among other stories coming out regarding Pakistan, Hareem Shah has become the trending topic for today. Currently, hashtag #HareemShah is trending first on Twitter ousting several other important issues. As of now, the major concern is of the irresponsible security officers guarding the Foreign office.
While talking to a local news outlet, the Tik Tok star told that she had official permission from the higher authorities!
Hareem Shah tells GNN TV that she did not do anything anti-Pakistan in her video filmed inside the Ministry of Foreign Affairs

The anchor responds by saying ordinary Pakistanis don't have access to the Ministry to which Ms Shah says that the Ministry is there for all Pakistanis pic.twitter.com/65W3rYNfBm

— omar r quraishi (@omar_quraishi) October 23, 2019
It is indeed an embarrassment for the security forces guarding the government office!
#HareemShah .. It is very shameful , alarming and disgusting for us as pti supporter.. How can this stupid and non serious girl get into this. pic.twitter.com/lsAF488kZR

— Moavia Bin Yaqub (@bin_moavia) October 23, 2019
That's a major concern for now!
They can't even keep the committe room of foreign ministry safe…how will they keep this whole country safe???#HareemShah pic.twitter.com/7zI50zgmeF

— Asad Khan (@I_asad_khan) October 23, 2019
Exactly! This is extremely disrespectful!
This thing about being brave as #HareemShah is actually an embarrassment. She should have thought 100x before acting out on TIK TOK. Please, honor the Regulatory Authorities its not your playing ground. pic.twitter.com/EZxsyDEbXv

— El' Professor (@MotorPakistan) October 23, 2019
Let's see what comes out of the launched probe!
@ImranKhanPTI this is not acceptable at all Mr. Prime Minister #hareemshah #pti pic.twitter.com/jOznZKQhm3

— Muhammad Umair Hameed (@Umairhameed88) October 23, 2019
Well, the Tik Tok star even sat on the Presidential chair after getting access to the Foreign Ministry conference room. Last month, in September, the Tik Toker and her friend were accused of robbing Mubashir Luqman's airplane. Currently, the general public is expecting stern action to be taken against Hareem Shah.
What do you think of the story? Tell us in the comments section below!