After the blockbuster films like Siyaah, Jaanan, and Parchi – brace yourself for IRK Film's another blockbuster project, 'Heer Maan Ja' – starring the dapper Ali Rehman Khan and downright elegant Hareem Farooq in the lead roles. The movie will be releasing on Eid ul Azha 2019.
As we all are aware that Heer Maan Jaa revolves around Kabir, who's an architect with a lot to accomplish and he has ambitions (Ali Rehman Khan) and Heer, a textile designer with a great soul (Hareem Farooq) is going to explore the life of the two together, and how fate has something else in store for them.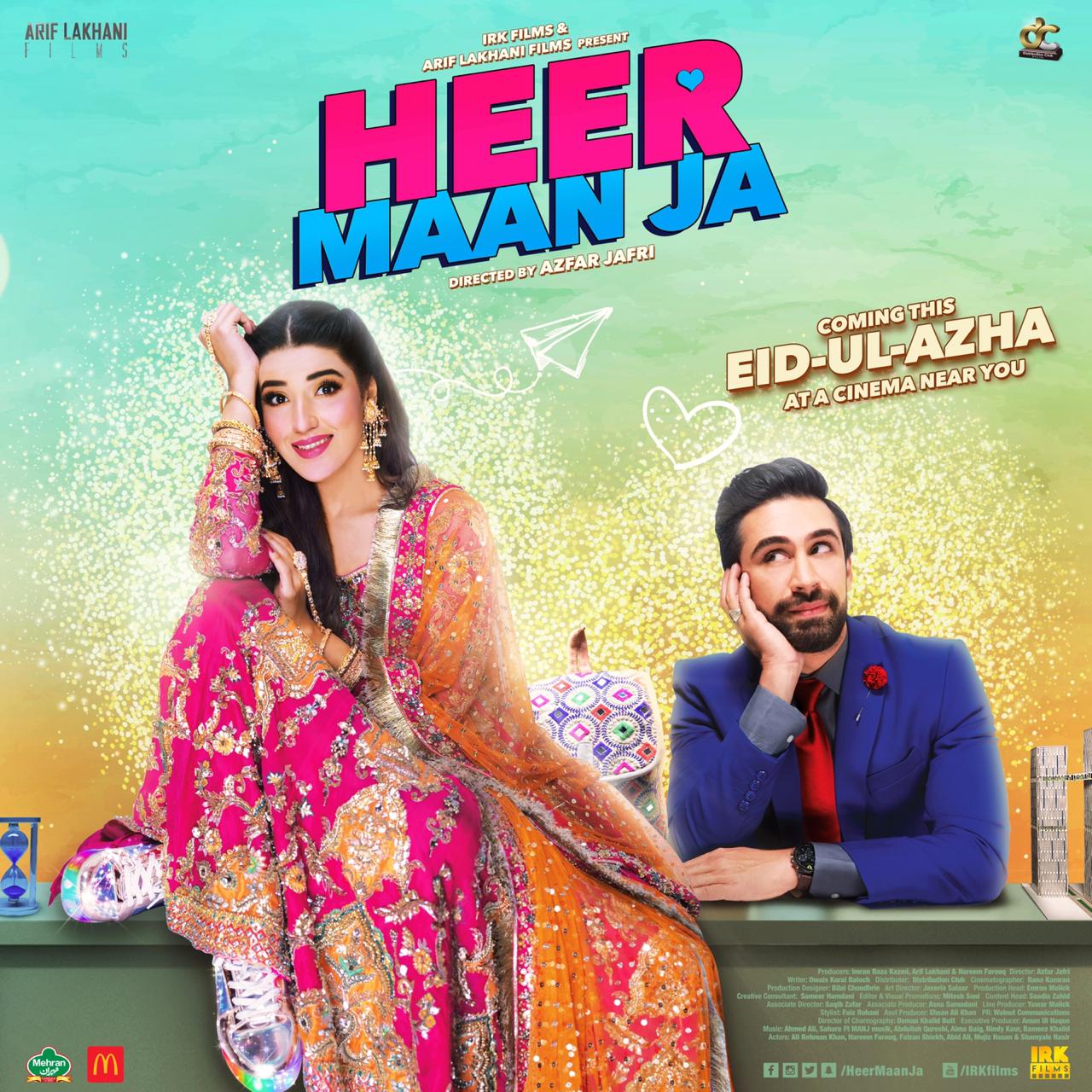 We at Parhlo had a conversation with the team of Heer Maan Jaa and really tried to get few insight scoops for you all.
While talking to Imran Raza Kazmi, this is how our chat panned out…
How many cameos can we expect in the movie? Also, which actors will be playing it? 
"I think the word cameo will be refined in my film. All the actors who have very graciously taken up these roles have left an impact. They have added their own twist to their characters and made it even more enriching. Can't say much about which actor is playing what role but that's the surprise! How about you guys guess and tell us (giggles)"? Quoted IRK.
We're really looking forward to finding more about the fun cameos in the film…so is anyone guessing which actors would be playing the special appearances in the movie?
How is this production bringing something new to this story?
To this, IRK responded with "the story, plot, characters, and genre is new and generally, the treatment of the film is very modern. It's a modern love story which has lots of romance, action, and comedy.
We have made this film with lots of love and care, spent countless nights perfecting dialogues and each character's personality so you will see that in this film. I can safely say this is a happy film which will leave people with a sweet memorable feeling. Heer Maan Ja is a happy film which is a full package for all ages."
After really trying to get some exclusives for you all (which we believe we've succeeded in) we tried our luck with Hareem too!
This is how our chat went on…
Is there anything that you dislike about this character?
Hareem stated, "The characters that I have done in the past might have had something which I could've disliked but this is the first time that the character I am playing is perfect. She is one of the most memorable characters that I have played till date."
And, we genuinely look forward to her performance!
Is this character more challenging or more doable as compared to the role you played in Parchi?
"After a strong performance in Parchi as Eman, in Heer Maanja I will be seen portraying the role of Heer who is a textile designer with a sweet soul. For an actor to be playing two diversified characters in a very short span of time is an exhilarating experience and I got that with Eman in Parchi and now Heer in our latest film. I couldn't have asked for a better role myself!" Quoted Hareem.
Also, the style chameleon Ali Rehman Khan had something to share with us and hear how it went…
What do you love about this character?
Ali said, "I play a guy named Kabir who is super confident and is a go-getter. He does what he feels is right and gets what he wants. The only thing is that he constantly runs into bad luck which brings around his constant struggle to maneuver a perfect life alongside. That's what made this character really enjoyable to play."
We also inquired…
If you could, what would you have titled this film?
Heer Maan Ja suits it the best!
In a nutshell, after the success of their previous projects and a hit show 'Main Khayal Hoon Kisi Aur Ka' IRK Films is about to give you something that will really get you buzzing with excitement. So, brace yourselves for a fun-filled movie this Eid-ul-Azha.