Dulhans go through a lot on and before their wedding day but they can't really complain about it obviously because its their BIG day. Hence, there is always something going on in their heads. If you're a bride to be, especially a brown bride to be, you're bound to face issues you did not expect you'll be facing. It literally feels as if everything's just falling apart for you and you probably want to call of the entire wedding off. The term Bridezilla may be commonly used to describe them, but you cannot blame the brides for their breakdowns and tantrums.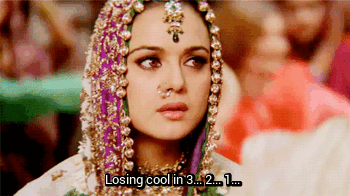 Smiling while sitting on stage, the heavily embellished clothes and jewellery and not to forget the dolled-up face, it's a tough job to be a bride and all they want is for their wedding day to look like a fairy tale. But have you ever wondered what is behind that fake smile? Or what is going on her mind while she stays quiets, fakes a smile and looks down hiding behind her duppata?
Here are some of the thoughts every bride has on her wedding day!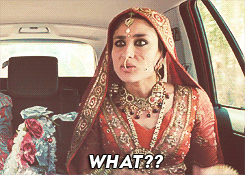 1. 
Meeting a million people at your wedding
Yes! That too with a big smile while draped in layers of clothing and jewellery can be difficult. How do you expect the bride to remember and greet everyone? Trust me, don't bother her too much, stay at your own seat as she has been through enough today. She has no interest in meeting you or your annoying little kids!
2. When every other kid is jumping around on the stage
And coming to "shake hands", trying to take SELFIES with the dulhan. All she wants to do is kill those kids that very second.
3. Sitting on the stage all bhookie…
What makes sitting on the stage with a fake smile, worse, is with an empty stomach. All she wants is food but cannot ruin the makeup she spent thousands of rupees on. The biggest lie she says then is "Oh no aunty I'm not hungry right now" when food is served at her own wedding.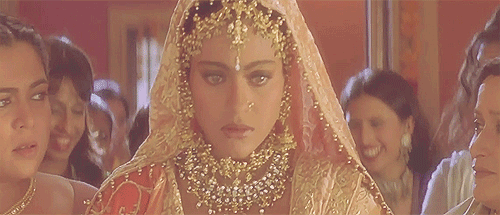 4. The 'extra' people!
When one of her friends dress up like its their wedding, trying to steal the spotlight of the bride. She wants to unfriend that friend that very moment. But not to forget, that friend is trying to impress the Rishta aunties there so she could be next hahah.
5. Phuppo ka beta
When phupo's friend shows up with her beta who wouldn't stop staring at you because he wanted to Rishta you! The bride usually shows off herself and gets away by hiding behind her dupatta or a big smile.
6. Sleepiness!
When the bride is on the verge of falling asleep but her in-laws kids wont let her rest because "traditions". Please let the bride rest, there's no need to play antakshari on that very night. Trust me, she is going to hate you for the rest of her life!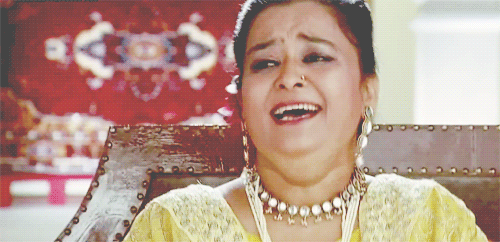 Once the event is over, all the bride really wants to do is throw away all that jewellery and toss away the heavy jora but of course, the in-laws will make her wait with the never-ending "RASMS"
Ahhhh! We really do feel bad for the brides who have to go through this!