This is getting uglier. If you are following us then you must know how this all started and how drastically it has progressed so far. Let's do a recap for the ones not familiar with this latest celebrity gossip. Hania Aamir posted a passionate message about her struggle with acne and disregarding beauty standards along with her bare-faced picture. On the other hand, Yasir Hussain on his Insta Q&A session was asked by a follower to share his thoughts on Hania to which he responded with an insensitive remark 'Danedar' and the rest is history.
Both of them exchanged some messages leading Hania to release a statement. It was about how unbecoming of someone it is to make fun of other people's insecurities. "Humor is great but be careful with it"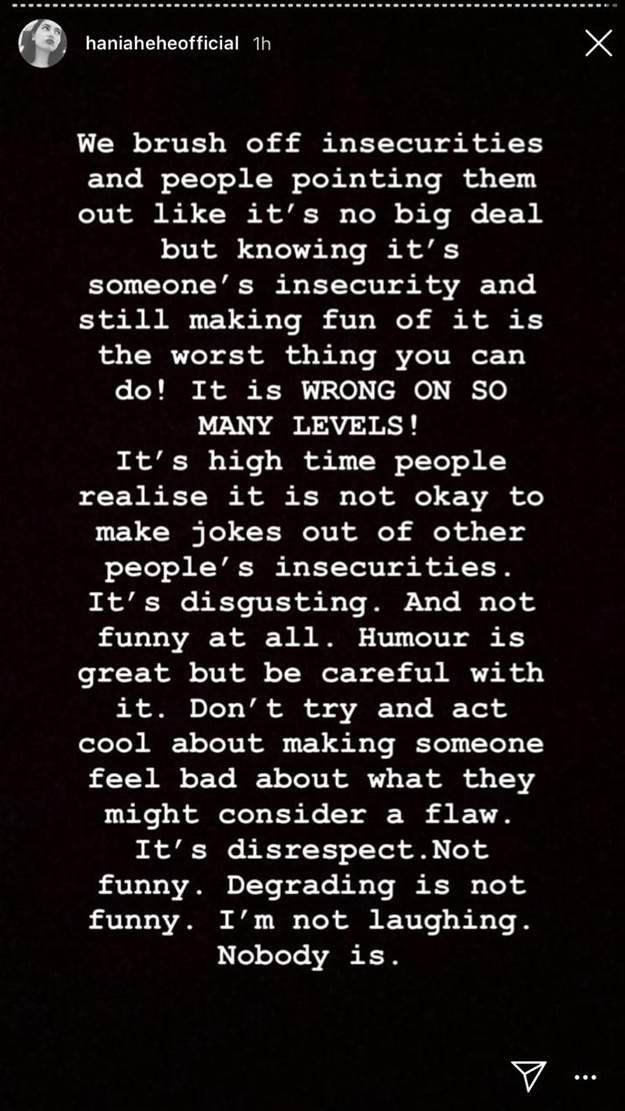 Yasir then chose to be petty and started sending indirect messages on his Instagram story that were clearly about Hania Aamir. That was definitely an eye-rolling moment. Everything seems to be a joke to this man, clearly. Until now his beau Iqra Aziz didn't come to his rescue, unlike last time, instead, she opted to act silently.
Iqra Aziz unfollowed a plethora of celebrities post-Yasir-Hania feud
People are speculating that this sudden action of hers is in support of her boyfriend. Among the celebrities, unfollowed was his co-actor in hit series Ranjha Ranjha Kardi Imran Ashraf.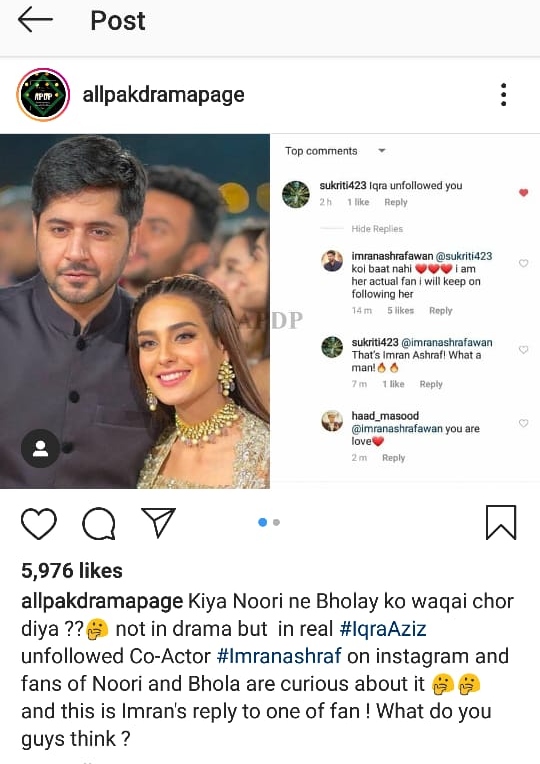 Someone notified Imran Ashraf about Iqra unfollowing him and his response was sweeter than honey.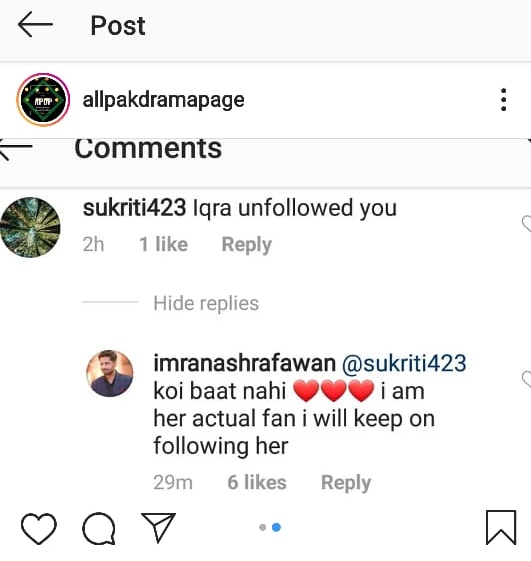 So far, it's just an assumption since this unfollowing spree happened right after but Iqra has laid these to rest with her latest statement on the matter.
"First of all, it has absolutely nothing to do with the controversy, and honestly I don't even want to talk about it. Besides, I don't think unfollowing people on social media removes them from real life. I have all of my fellow stars' numbers and not having them on Instagram will have no impact on the nature of our relationship/friendship," Responded Iqra. 
Now, she is only following 28 accounts in total. We hope this is the end to it all. On a brighter note, Hania started a movement where more female celebrities are coming forward with bare-faced pictures showing us common folks that they too are just like us with problematic skins.