The Suno Chanda actress Iqra Aziz is admired by many and her 'girl next door' looks have certainly made a lot of men go gaga all over her. Iqra who tends to remain in the limelight for her pictures once again received a bash soon after the Lahore Se Aagay actor Yasir Hussain uploaded a gorgeous picture of the duo letting all the netizens to think about their probable affair or formal relationship in the long run.
Look at them!
This is what the troll commented

And this is how Iqra responded…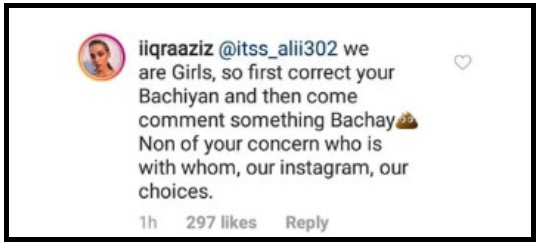 Iqra and Yasir have been in the public eye for quite some time and the rumor has it that the two are dating. The recent picture shared by Yasir Hussain is giving us something to think about and our inner detective phupho is itching to find out more!!!
This Valentine's Day, Hussain shared a picture on his Instagram leaving fans puzzled over his relationship status.
What does this tell you? Is Iqra Aziz, Yasir Hussain's bae? Or is that some other chick who looks exactly like Iqra? What do you all think? If it's true then we're thinking #IqraKoLeGayaYasir as their wedding trend! Eeep!
Here's how people have responded to the above post…
People are certain that the girl in the picture is Iqra!

Few users don't even want Iqra to get hitched to Yasir!
Maybe because she is?
Ummm…
Maan gayi maan gayi!
Tiddi? LOL 
Sister day? Such sarcasm…why?
The two are all over each others Instagram and are spotted together at several events.. check these out!
Look at them doing TikToks together!
So he wrote "chota sa ek sapna"
Pretty sexy no?
This is the duo at the Bridal Couture Week!
While both have often expressed admiration for one another, neither have admitted nor denied that they're dating. They've always maintained that they're good friends. In short, whether it's off-screen or on-screen, the duo is doing all rounds and blowing us away with their romantic equation. 
We still don't know what does this mean and whether the two are together or not. However, who's rooting for the two of them?! We know we are! Let us know what you all think about this. If they're actually engaged to be married, why won't they announce!! We're pretty curious to find out about their relationship status.
The duo actually looks cute together and the moment we get more updates, you'll know we share them with you! Love you all!