Remember Gullu Butt? Let's jog your memory a little bit; the guy who Model Town (Lahore) under lock-down a few years back because he was causing chaos. It is still a mystery why he did what he did, but the man, his wife and a child were seen smashing cars and public property all over the news.
Maybe This Picture Will Remind You of the 2014 Incident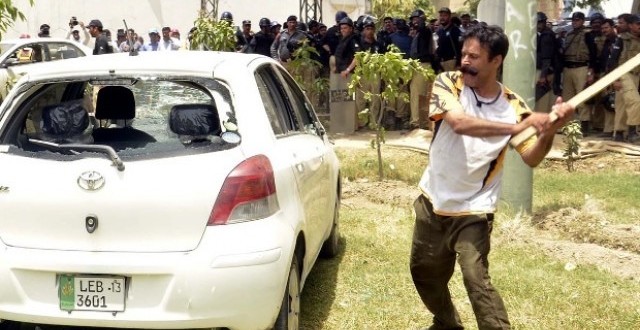 Okay so the reason of this throwback was to remind you of how we have seen someone breaking cars in Pakistan before and something similar happened in the capital of Pakistan as well.
This Woman, Out of No Where, Starts Smashing a Car in the Middle of a Street in Islamabad
It all begins when the wife takes out a wooden stick (or a bat; pretty hard to tell at first) and starts hitting at a black car. People around are seeing as she breaks the car, one window at a time. Dressed in a pink top and black jeans, this bold woman does not care who is watching her.
With the passage of time, a man in shalwar kameez appears and tries to stop her. She then threaten the man with the same stick and he fights back. He then picks up the stick and tries to beat her till she moves back. The surrounding people then interfere and stop the couple from creating this huge mess.
The woman then moves away and the man follows her and they continue fighting. Now according to the news report by Dunya TV, this appears to be a married couple.
Yes…You Read That Right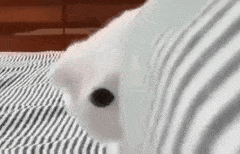 So according to the news report, while this couple was fighting on the street and making it pretty much everyone's business, someone called the police and they later arrested the couple. It turns out, this couple has numerous criminal records on their name.
When the police took them under custody, it appeared that the couple, collectively, has 100 criminal cases on their name. Not only any cases, but drug related cases nationwide.
Here's the Video of the Entire Incident
Here you can clearly see what happened and who attacked what and where.
Girl smashing a car right Center and front. Islamabad. pic.twitter.com/BNYwGsjKrF

— Mumtaz Hayat Maneka (@Mumtazz_Maneka) February 16, 2019
Here's the Report Given Out by Dunya TV News
All the reporting cites criminal records which have been noted by the police.
میاں بیوی کی لڑائی تھانے پہنچ گئی,بیوی کی شوہر کی گاڑی پر توڑ پھوڑ,شوہرکا بیوی پرتشدد، پولیس دونوں کو تھانے لے گئی,دوران تفتیش دونوں پر منشیات کے100 سے زائد مقدمات کا انکشاف،مزید جانیےاس ویڈیومیں #DunyaVideos #DunyaNews
For more videos visit: https://t.co/BTi9h8IM54 pic.twitter.com/4BpMVot5A9

— Dunya News (@DunyaNews) February 16, 2019
The point to ponder here is that if there were so many cases registered for this couple, how could they have the guts the take such a bold act in public? Were they not afraid?
Let's see what happens next in this case!