Leave it to a Pakistani to associate anything and everything with food. We are proud foodies and take pride in our traditional dishes like Nehari, Paye, Haleem, Pakistani BBQ, Halwa Puri and so many more. I should stop because being a foodie myself I will list several dishes that will leave you drooling and salivating like I am at the moment. I demand to be served a nice sabzi puri nashta this instant, it's lunchtime as I write this though but hey anything goes for us Pakistanis. Bas khana chahiye!
Read Also: Ramadan 2019 Calls For A Healthy Food Diet
Behold The Best Nashta You Can Ever Have. So Glad I Am A Pakistani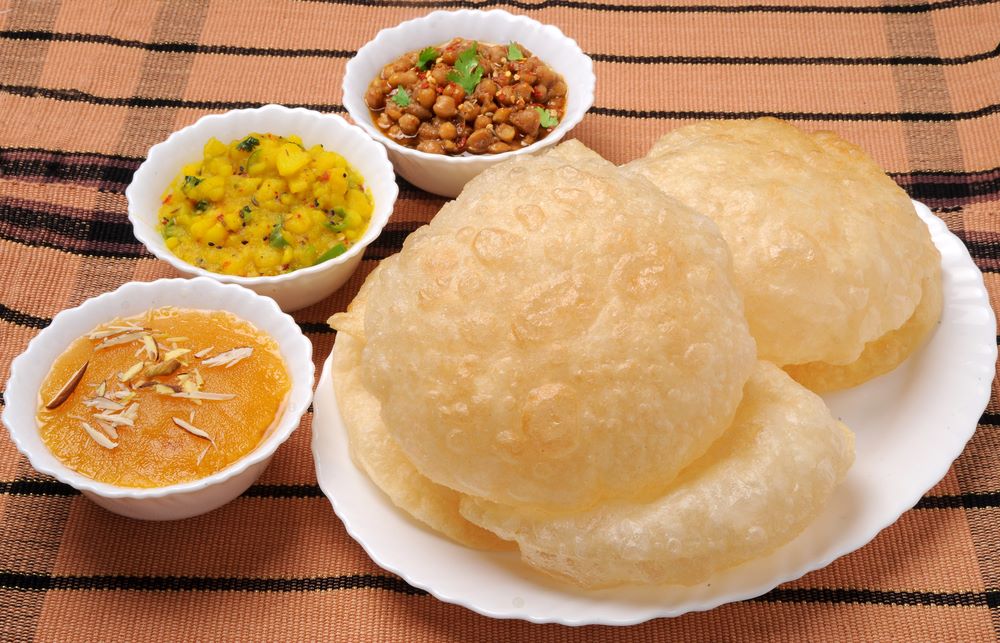 With being a foodie we are also pretty creative and this user on Twitter just proved that. She took pictures of Mahira Khan and added pictures of DESI SWEETS that Mahira's picture reminded her of and it's hilarious. Wait, before you read and although Mahira at this point in her career doesn't need an introduction but just in case you live under a rock- Mahira Khan is a Pakistani film and drama actress that has a fan following around the globe. She is an international star and has worked in India as well with none other than Shahrukh Khan in the movie called Raees.
Appreciation Picture, She Is So Gorgeous!
*BEWARE THEY ARE ALL SWEETS*
Oh My God! Garama garam jaleybi ho jaye.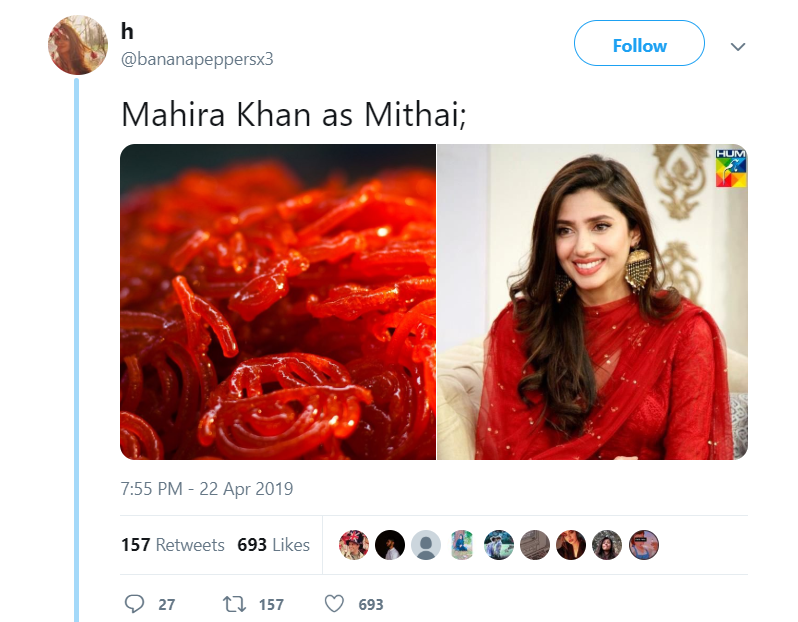 No idea what this is but I definitely want to try it.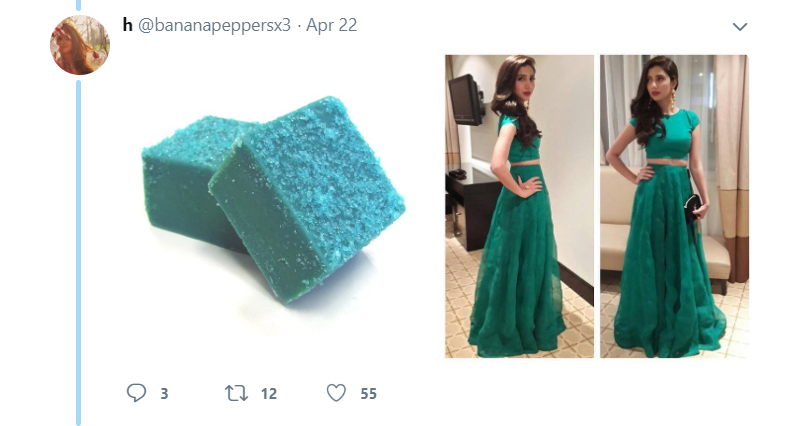 Laddo! Who doesn't love a laddo and Mahira on the right always slaying in desi attire.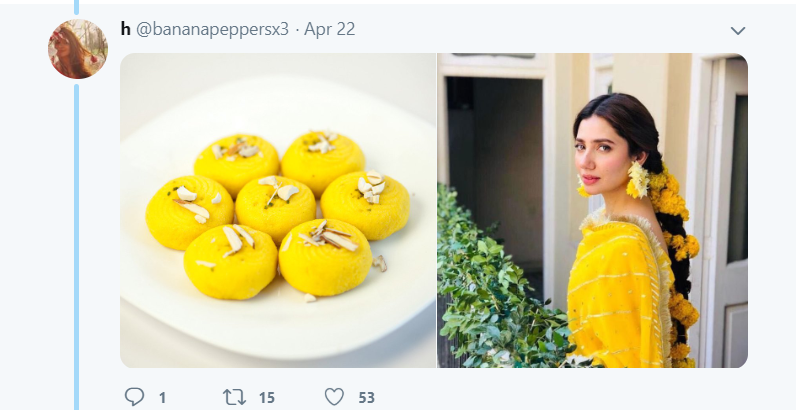 Wah! Although I am supposed to write about how ridiculously good this match is, but I can't take my eyes off of the Halwa.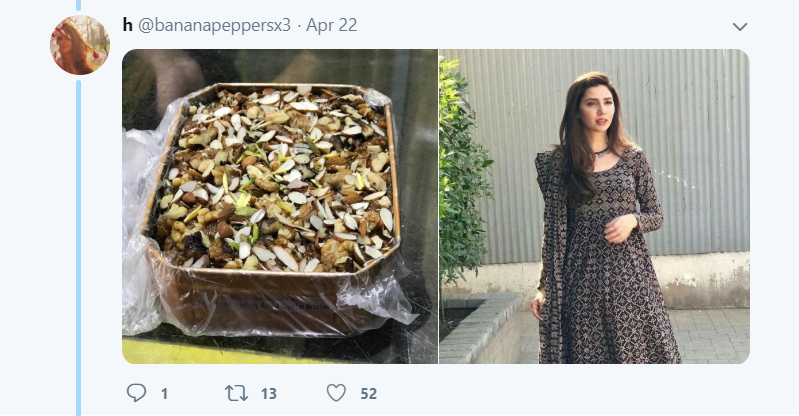 I would understand anyone not liking any other sweet but Gulab Jamun? Wherever you are, I will find you and I will judge you.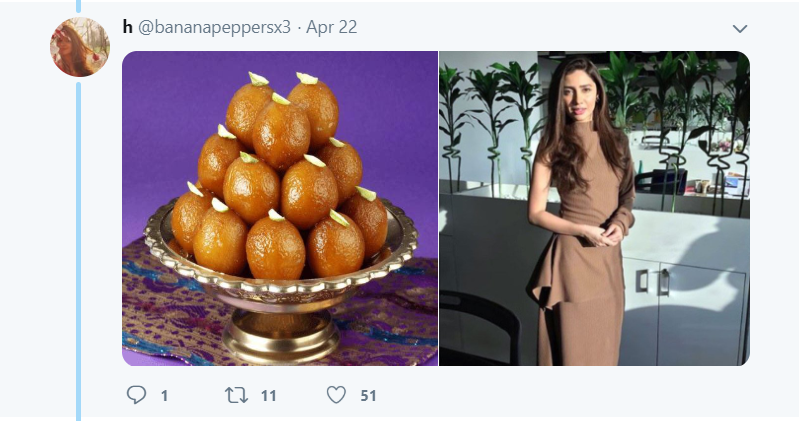 It's a long thread of foodie goodness! The Original tweet is below.
Mahira Khan as Mithai; pic.twitter.com/vHdSfBJDPm

— h (@bananapeppersx3) April 23, 2019
We Lover Her Too!
Mahira Stan accounts are making their way here so I just wanna make my statement that I love mahira khan so much if she spit in a bottle I'd keep that bottle right next to the urns that have my ancestors ashes , guns down y'all

— h (@bananapeppersx3) April 23, 2019
So Are We!
— Jahanzaib Shaikh (@JahanzabShaikh) April 23, 2019
Not Gross At All. Laikin thora control banta hai, boss.
Hoping it does not sound gross in any way, but I would genuinely eat the whole load of that Julebi and most likely turn diabetic… But be happy as ****

— #MadForMahira (@AhmedZahid05) April 23, 2019
Same sister, mine too!
My God!
This. Is. My. Favorite. Thread.
Period.

— Na-Maqool Feminist (@BilalSannia) April 23, 2019
Thanks to this user I am bound to stuff myself with all sorts of mithai today and I hope you all have a sweet end to your day too. Off to the bakery!
Credits: @bananapeppersx3's creative mind <3