Just imagine, how sad would it be to find out on your daily nine o'clock news that your school got burned? This tragedy took place in Gilgit Baltistan Diamer district where 12 schools were burnt down, by unidentified attackers.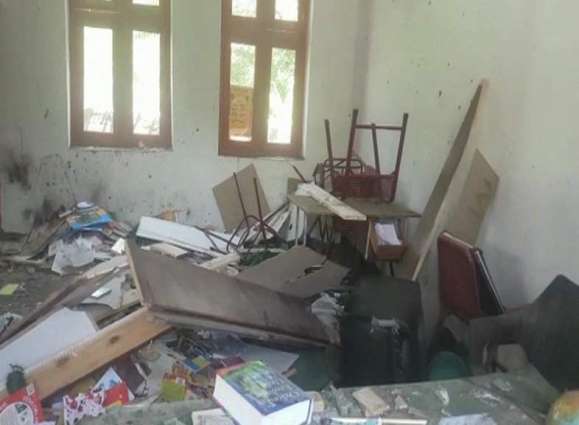 According to sources, at least half of the schools were all girls schools and even books were thrown outside the schools and set on fire. The names of the schools were Girls School Ronay, SAP School in Hudur, Army Public School, Darel Tehsil, Primary School in Tabor, SAP School in Tabor, Army Public School, Girls School Galee Bala, Tangir Girls School Sheegay Manikal, School Galee Bala.
This incident shows the amount of intolerance that is deeply embedded in our society towards educating girls. As soon as the news spread, there was outrage in media by different spokesmen, journalists, and hosts.
Maria Memon, a host, and an anchor tweeted her reaction towards this incident, and we couldn't agree more!
Kab tak school janay wali bachiyon sey darrtay rahein gey yeh darpok loag? https://t.co/O330HxX8EW

— Maria Memon (@Maria_Memon) August 3, 2018
We totally agree with her, as it shows how coward these attackers are! They fear a better society, a better homeland, and a better generation.
Let's see what people had to say in correspondence to her tweet,
These guys should be caught and made labour to build these school..once school construction done..shoot them..

— Muhammad Shujaat (@shujaat_m) August 3, 2018
This guy makes so much sense…
This is the pertinent time to fight patriarchal culture and to educate our women. Once they're educated, they'd grab their fundamental rights. Then male chauvinists would never dare to exploit them.

— Amir Abbas Turi (@AmirAbbasTuri) August 3, 2018
True that.
Mam; Jahaalat ki koi Elaaj nahi; 😠😠😠😠

— Zafar Abbas Mirza (@GltBlt) August 3, 2018
Just sad.
Its not fear. It a systematic #Genocide of Pakistanis.

— Kambiz Khan 🇵🇰 (@kambizkhan5) August 3, 2018
Akhir kiun?
Really fail to understand why all religious fanatics are afraid of women?????

— eikbunjara (@eikbunjara1) August 3, 2018
After the incident took place, there were rallies held by the locals and protest by the Diamer Youth Movement, demanding the arrest of culprits while chanting slogans of 'Dehshatgard Murdabad' and 'Pakistan Army Zindabad'.
Investigations are going on police and law-enforcement agencies to find the culprits. Moreover, PTI Chairman Imran Khan condemned these attacks and stated that the upcoming governmental policies of Naya Pakistan will ensure that girl's education will be an essential part of educational policies.
According to sources, the commissioner of Diamer, Syed Abdul Waheed Shah stated that there are no Taliban militants in their area, however, the extremist who oppose educating girls are present.
This society is in severe need of male chauvinism cleansing, however we are not as cowards as those culprits and we will fight against them and stay united and strong till the day we can!
Pakistan Zindabad!