We all know that one actress who loves to be in the headlines, and it is none other than Meera Jee. Being a controversial figure, she makes sure to do something or other to stay in the news. Be it her scandals or broken English, the woman knows how to grab attention. And this time, with all the Mufti Abdul Qavi drama going on, the veteran actor wasted no time and came to the rescue of the notoriously 'controversial' cleric.
You must have come across all the controversial video clips of the religious scholar Mufti Qavi. But something entirely new, a video emerged on Monday. In the video, yet another controversial personality, aka Tiktok star Hareem Shah slapped the cleric after he allegedly engaged in a 'vulgar' conversation with her.
I will share more video's of mufti qavi..#HareemShah pic.twitter.com/8cAfUXJDOa

— Hareem Shah Official (@hareemshah_12) January 18, 2021
The social media sensation also revealed the reason for slapping the prominent cleric. Shah clarified that she has no regrets about hitting Mufti Qavi. Moreover, she stated that the public would decide for themselves whether he deserved it or not. Not only did she slap him for speaking salaciously with her but also for many other reasons, for which she claims to have ample evidence to prove.
But looks like Meera Jee has jumped on the bandwagon of defending the Mufti Qavi with all others who blindly follow the cleric despite his emerging vulgarities.
Meera Jee speaks in support of Mufti Qavi
Speaking to the 24 News channel, the Baaji actor gave her two cents on the ongoing controversy surrounding the cleric.
"He is a scholar, and I have had a student and teacher relation with him. I respect him a lot, and till today he treats me like his own daughter. He always sends me messages of Salah and other Islamic messages to bring me close to Islam," she stated.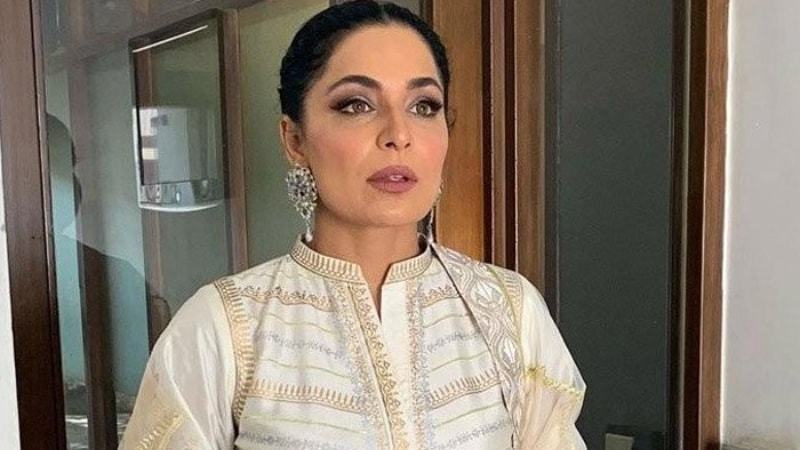 "It is very sad to see him being treated with such disrespect. He is my spiritual teacher, and I am like a daughter to him," the actor added. "It depends on what happened from both ends."
Watch the video here (Jump to 2:30)
Meanwhile, in his defense, the cleric earlier said that he was hit out of the blue while drinking tea and that the two girls only came for one or two minutes, slapped him, and left.
Another video of Mufti Qavi came to the limelight on Tuesday. In the video, he not only unveils his favorite 'drink' but also talks about his girlfriends and much more.
What do you think of this story? Let us know in the comments section below.