Wedding in Pakistan is an amazing mixture of colorful traditions and customs. The wedding preps start monthsbefore the big day and then come the never-ending list of wedding festivities including bridal shower, bachelor / bachelorette party, mehndi, mayoon, nikaah, baraat, valima, etc. These extravagant wedding ceremonies have introduced new sumptuous trends to us and the couple's entry is one of them.
Remember That Groom Who Did A Triple-H Themed Entrance On His Wedding?
And The Bride Who Arrived On Her Mehendi In A Cake! Yes, Cake!
How Could We Forget To Mention The Couple Who Entered On Their Valima On A Boat!
Wait. The List Doesn't End Here!
After watching the above-mentioned videos, we thought that we have seen all sorts of bridal entries but this latest video stopped us from doing so! In a recent video of the bride's entry, it can be seen that she made an entry on a camel…
Hiding her face in a ghoonghat embellished with Gota-Kinari, the bride has adorned her hands with mehndi. For the background music, Khalibali song from the movie Padmaavat was playing. However, it doesn't show in the video how she came down from the camel as it is the most scary part of a camel's ride! (People who have taken it knows what we are talking about!)
And Here Comes The Bride On The Camel…
Here Is How People Are Reacting To This Latest Entry!
People Are Giving Creative Suggestions For Entry!

And A Few Are Lecturing On Spending Less On Marriages!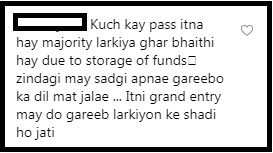 HAHAHA!

Aisa To Kisi Ne Socha He Nae Hoga!

Entry On Elephant Would Be The Next Thing!

People think that spending millions on a wedding to make it extravagant and spectacular is nothing but merely a waste of money. On the other hand, showing it to others through social media will give them nothing but an inferiority complex. The issue is not with the multiple functions of the wedding, the spendthrift attitude is actually creating trouble for many.
In a country where people are taking their lives because of extreme hunger, these trends seem a mockery to them. Due to these customs, the real essence of marriage has vanished somewhere and all we care about is showing it all off…
Let us know if you have something more to add to this story or if you'd do something similar like this on your wedding!