Shah Rukh Khan is one of those superstars of India who is known by people globally. In whichever country SRK steps in, he pulls the crowd and creates fan frenzy. Moreover, several international celebrities know him well and have appreciated him for his work in the movies.
Their admiration for Shah Rukh has been well-received and we have seen him share the same frame with these stalwarts. Not only Hollywood, but SRK has also even met several international musicians, football players, and others.
Also, Mesut Ozil is one of the best footballers of the world who also has an unusually huge fan following all across the globe and also in India. Aware of the same, the player shows his love and respect for his fans in the country by tweeting and thanking them for their love.
 Recently, when the Bollywood King, Shah Rukh Khan paid a visit to the player and his fiance Amine Gulse in London, he seemed to be in awe of the star's gesture and tweeted in Hindi in order to thank him.
Mesut wrote, "It was a big honor to have you as my special guest during yesterday's match! Thanks for coming! iamsrk ||  Kal ki match mein aapka swaagat karna mere liye ek sammaan ki baat thi. Aane ke liye dhanyavaad. #M1 #YaGunnersYa."
Along with the tweet, he shared the adorable picture of him and his fiance Amine standing with Shah Rukh as they all held his Arsenal jersey wìth pride.
It was a big honour to have you as my special guest during yesterday's match! ?????⚽ Thanks for coming! @iamsrk || Kal ki match mein aapka swaagat karna mere liye ek sammaan ki baat thi. ?????⚽ Aane ke liye dhanyavaad. #M1Ö #YaGunnersYa pic.twitter.com/QKI52C2Sb8

— Mesut Özil (@MesutOzil1088) April 2, 2019
However, this is not the first time that the footballer has shown his love for any Bollywood personality. Last year, he expressed his wish to pay a visit to India and meet Ranveer Singh, who also is a big Mesut fan and went to watch the Man City vs Arsenal match.
Along with Mesut Ozil, King Khan also struck a pose with another Arsenal player Granit Xhaka who has been a big fan of the star. While he shared the picture on his Instagram handle, the footballer wrote that he finally got a chance to meet Shah Rukh Khan in real, since he had posed with his wax statue in the past.
Moreover, actor Ranveer Singh later made a comment on his post to congratulate him, but what followed was a lot more special, as the Arsenal man replied in a way no one would have expected: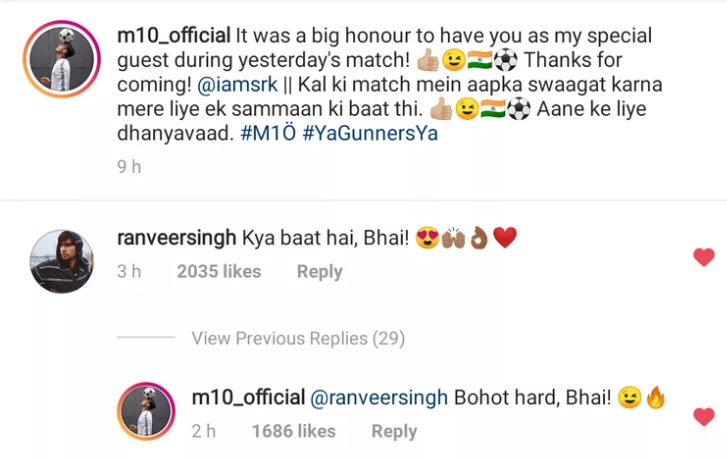 In case you didn't know, Ozil's words – "Bohot hard, bhai" – is a direct reference to Ranveer's latest flick "Gully boy." The dialogue is often repeated in the movie, and Ozil's use of the same phrase indicates that he has a supreme level of awareness about what is happening in India.
The midfielder and Ranveer Singh are already known to be good friends, the latter being a fan of Arsenal as well as an ambassador of the Premier League in India. The duo often exchanges pleasantries via Twitter and Instagram, and all of it simply proves how close both of them are!
Read Also: PAKISTANI DOPPELGANGER OF SHAHRUKH KHAN GOES VIRAL