Momina Mustehsan and cyber-bullying, there's always a ring to that one. For no reason whatsoever, the lady attracts haters and has done everything in her capacity to avoid them. Since her rise as the Coke Studio sensational singer, she has won various accolades and has managed to establish herself as a brand as well.
Despite her active presence everywhere, people just need a reason to hate her. While she shines high on her work, endorsements and practically being just about everywhere, there will be haters who would be picking up on her.
So What Did Momina Do To Get All the Hate this Time?
Nothing…literally nothing.
Momina decided to change a bit of her usual, simple look. She flaunted her makeup skills, got ready to be the Lady in Red and wore a red lipstick. A different look, don't you think?
She Indeed Seemed Different and Different is Always Nice!
Now Look at the Disrespectful, Hate Comments Momina Got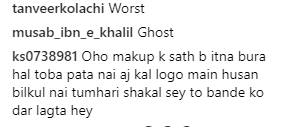 How these people think it perfectly okay to mock someone on their looks is just appalling and straight up disgusting.
But the Singer Knows How To Shut the Haters Down
Safe to say, Momina has learned not to keep quiet and she gives a befitting response!
Her caption just stole the show!
"My lipstick makes you uncomfortable? 🤷🏻‍♀️🙃 Please excuse me while I enjoy some live Jazz 🎷🎺 Feat. my little adopted child 💕"
You are doing well, Momina. Make sure the haters know their place.
Keep slayin in all the looks you love and adore. <3