There's always this thing about romanticizing the poor; whether it be the white-Americans taking pictures with poor African and creating "awareness" about poverty or our local activists, you will always find these activities and pictures plastered over the internet.
Similar to this is what happened with Muniba Mazari who took is often seen spending time with the individuals drenched in poverty. However, this time it backfired massively.
Muniba Mazari is not just an artist or a singer; she's also an activist who we have seen making experiences in different social awareness campaigns. Everybody loves her and her dedication to this work for a cause.
I Mean, Look At her Including All Sorts of People In her Shows
This time however, people did not like what the local activist did.
Muniba Mazari Uploaded a Picture with a Poor Girl Suffering from Jaundice!
In her comments, Mazari shared that the girl was from Multan who came to visit her. Muniba shared the picture with the caption of "Eyes are the window to your soul".
Here's the picture:
https://www.instagram.com/p/BxmKLBeHory/
Someone In the Comments Later Notified Muniba Mazari That The Girl Is Suffering From Jaundice
As it is pretty clear from the eyes of the young girl as well.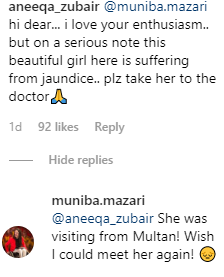 And people kept telling her more on this:
I think that little girl needs a doctor.

— Zeina Toric-Azad (@zeinatoricazad) May 18, 2019
She is suffering from Jaundice!!

— Harsh Thakur हर्ष ठाकुर ?? (@fcb_Harsh) May 19, 2019
On this, the Social Media Shared How Wrong Muniba Mazari is On Doing Something Like This
Rich kids like Muniba Mazari with their NGOs make money as long as there are poor kids around

It's such a beautiful way of accumulating wealth with almost zero scrutiny

— Zahid Afridi (@zahidshahafridi) May 19, 2019
No, Muniba, sometimes when you're not privileged and have access to basic needs like healthcare, eyes are the window to your illnesses and ordeals. Her yellow sclera indicates jaundice. She needs treatment, not photo op. https://t.co/FHxl073Hyo

— Shazia's Dottuh (@maryamful) May 18, 2019
And Here's Some More
I love Muniba, but really wish she and everyone else would stop using poor children as insta props. This child is suffering, her eyes are only window to her disease not your SM aesthetic. pic.twitter.com/LaTxdtuMUo

— N (@__Dragunov) May 18, 2019
I'm so glad someone said it. I saw this photo there and strange sort of disgust engulfed me. I was speechless though, as I usually am in such situations. May we become more than our social image some day!

— Unapologetically Sabahat ? (@SabahatUlain) May 19, 2019
This is the first time in a while that social media of Pakistan has commented on how the rich try to romanticize the poor. However, in the case of activists, it may not make much sense as they are always trying to do something to contribute to their lifestyles, like Muniba Mazari does.
Let's hope Muniba Mazari addresses this with a positive news; at least we can hear on whether this little girl was being taken of or not…