Remember the "mummy ki kasam" wala Indian soldier after Pulawama terror attack whose face was plastered all over social media a few days back? The Indian soldier who was asking for permission from the Indian Prime Minister Modi to let him and his four friends attack Pakistan?
Let's Remind You of the the Particular Indian Soldier We Are Talking About Here
In his video message that went viral, he showed his urge to attack Pakistan along with his four soldier friends/fellows and take revenge from Pakistan.
Salute #indian soldiers pic.twitter.com/G15WDvHEit

— Aryan Bharati. (@Aryansh05955800) February 16, 2019
These past few days, we have heard and read all sorts of threats and accusations from India. On the other hand, Prime Minister Pakistan tried to mediate the situation stating logical facts and demanding evidence for the attack on Indian soldier.
Pakistanis Are Not Bowing Down Either
While on the lighter note you may see memes and jokes on the internet, our men in green also show the Indians that they are no less than any other army. For example, this jawan has a message for both, Modi and the Indian soldier who threatened Pakistan.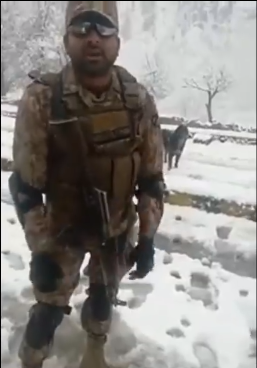 He first attacks Modi by talking about his past as a tea-seller. He states how a man who was first a tea-seller and now their prime minister is not reliable to "believe" that it was Pakistan who made the attack on the Indian soldiers.
He then mentions that currently he is standing in cold weather in the circumstances of cold. Challenging the Indian soldier, he continues by saying that the Pakistani jawan are protecting the border and are not afraid of anyone, including this Indian soldier.
He also says that he will is saying that he wishes to attack India as he doesn't care and neither will he take the permission of anyone if push comes to shove, before making any attack. The soldier then points camera to his dog and says that if he sends his dog alone, he will be enough to rip the Indian soldier apart.
Here's the Video Message by the Pakistan Soldier
Pretty solid, don't you think? Let's us know your feedback in the comments section!