The majority of times, the education system of Pakistan is seen rotting in the corrupted barriers of severe political influence. Stability and consistent up-gradation of the curriculum taught to students in the educational institutes is necessary for the learner's proper character building but the lack of consideration of concerned authorities has lead the whole criteria to a collapsing stage. The best example of such is the support a large group still shows for their arrested political leaders on corruption charges.
Son fulfilled her mother's long lost dream of pursuing higher education!
Among such biased society which is full of hate and narcissism, there are many devious individuals who feel for their loved ones before anything else. Earlier this year, a young boy in Multan was seen easing people's lives by feeding them for Rs.10 and such beautiful people are an epitome of kindness. In this world, there are many people who for different reasons leave their studies behind but this mother Asma Kiran from Pakistan's Rahim Yar Khan area was lucky enough to continue her higher education because of his son Anas who has now set an example for other children to follow.
Pakistan's ARY News covered the whole story in one of their morning shows and here's what the son-mother duo has to say!
بیٹا بنا استاد اور ماں بنی شاگرد

بیٹا بنا استاد اور ماں بنی شاگرد —- رحیم یار خان کے انس نے والدہ کو ایم ایس سی کروایا —- شادی کے بعد اسما تعلیم جاری نہ رکھ سکیں — اسما کا مزید تعلیم حاصل کرنے کی خواہش کا اظہار

Gepostet von ARY News am Donnerstag, 3. Oktober 2019
A mother from Rahim Yar Khan and her love for education!
In this chaotic world, it is a rare sight to see such children who take out time for their parents and help them achieve their goals. As per the reports, Asma Kiran, a mother of four sons, got married soon after she completed her matriculation and her dreams of pursuing further education were shattered because of the increasing responsibilities. But when her son Anas took admission to an Arts College, Asma showed her interest in carrying on her education further and started getting tuitions from her son who even prepared her for college and for the majors she wanted to study in.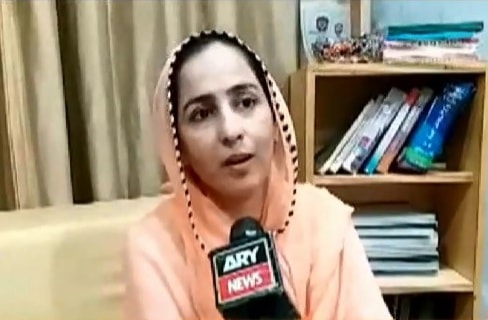 Check out: This Pakistani Woman Has An Eye-Opening Message For All The Mothers Of Boys Out There
Well, success wasn't far after the son-mother duo started supporting each other and recently, Asma finally finished her Masters in Science (MSc) degree. But it wasn't till here, Asma's sheer love for education and aim to mold herself into a successful woman is wanting her to accomplish more in life. Now, she is aiming to get a hold on a Doctorate of Philosophy (Ph.D.) degree but for that, she is urging the government of Pakistan to support her and provide her with a relatable job in a well-known company.
What do you think of the story? Tell us in the comments below!