Did we JUST not get over the 74584584 amount of wedding reception events of Priyanka Chopra and Nick Jonas that now we are hearing the rumors of their divorce?
In case you were living under a rock (even in that case you would've heard about Priyanka marrying Nick), the couple tied the knot in December 2018. They were dating for about six months and bam, decided to settle down in a legal manner. Their wedding, based on the festivities and cross-cultural match, broke all the headlines and everyone on the internet fell in love with them.
'Nickyanka' – as the internet likes to call these two love birds, continue giving couple goals to everyone in these four months of their married life.
Nick Jonas' Song Became a Hit and Look At What Priyanka Gets
When the hubby goes number one.. the wifey gets a #Maybach !! Introducing.. Extra Chopra Jonas.. haha .. I love you baby!! Yaaay! Best husband ever.. @nickjonas ?❤️? pic.twitter.com/LZkYi00GKr

— PRIYANKA (@priyankachopra) March 13, 2019
(brb looking for a man like Nick Jonas)
The Jonas Brothers and the JSisters Been Having a Lot of Good Time As Well!
When the crew looks this good ???❤@SophieT @nickjonas @joejonas @kevinjonas @chasefoster @MDeleasaChile pic.twitter.com/ki2zgOaOMp

— PRIYANKA (@priyankachopra) March 26, 2019
But the biggest twist comes when publications are reporting that the couple is now heading for divorce after 117 days of their marriage…
According to a US-based magazine called OK! Nick Jonas's family has been requesting him to end this marriage based on the troubles they are facing.
The Front-Cover of the Magazine Reported the Following on the Divorce
"Priyanka and Nick divorcing after 117 days"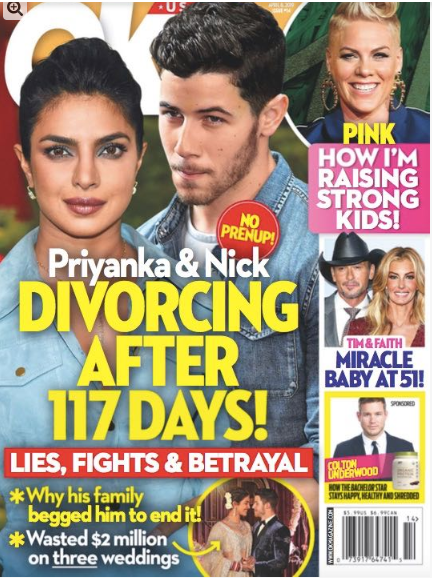 According to the OK! magazine, the couple has been fighting on numerous reasons related to time management, partying, work and the list goes on. According to the report:
"Jonas believed the actress was cool and easygoing when they got married but recently Nick has seen a controlling side to her. She also has a temper – that is something Nick was not aware of until after the wedding celebration," 
The magazine also mentioned that the divorce, if it happens, will be a battle for money as the couple decided on no premarital agreement before tying the knot.
The couple has yet to comment on these rumors and it seems they are taking all the time in the world as they are busy partying in Miami with family. So is this their way of brushing these rumors? WE like it!
In the Meantime, Here Are Two Really Cute Pictures of them Together
Priyanka Chopra and Nick Jonas are so in love and defo the cutest couple ♥️ pic.twitter.com/G0zn4dLHcg

— sal. (@saleha_xo) March 24, 2019
Let's see if there is any truth to these rumors or not. Hopefully, either one of the family members, if not the couple, may address to what is happening.