Model Sadaf Kanwal has been in the line of fire ever since she married actor Shahroz Sabzwari. For those living under a rock all this time. Syra and Shahroz ended their seven-year-long marriage on accounts of irreconcilable differences.
Many thought the 'irreconcilable differences' was actually a fancy word for Shahroz's extra-martial affair with Model Sadaf Kanwal.
Since then Shahroz has posted a video clarifying his hush-hush marriage to Safaf.
Pakistanis on the other hand furious over the breakup of their favorite celebrity couple lashed out on Shahroz and Sadaf on their Instagram account.
Exhausted, the duo turned off their Instagram comments after numerous hate messages flooded their page. But it seems like Sadaf Sabzwari forgot to turn off her Facebook account's comments and since then have been receiving horrible hate comments.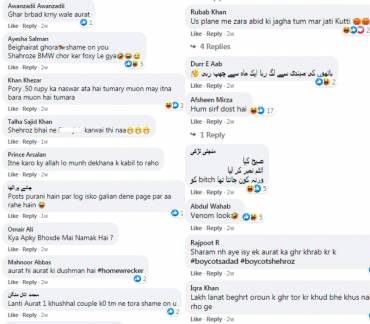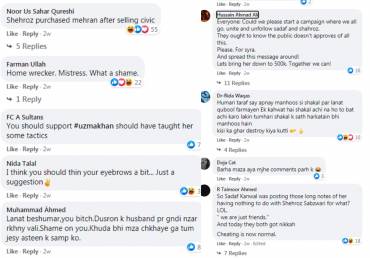 Some bashing on some Instagram post of her's is also on.
Syra and Shahroz separation
Syra and Shahroz announced their separation in February this year due to irreconcilable differences. Taking to Instagram, both the stars penned a brief note expressing their hopes for the future, their daughter, and their expectations from the media.
The note read, "Today on account of irreconcilable differences, we have decided to end our marriage. Our only hope at what is a difficult time for each of us is that both of us can continue to be the best possible parents for our daughter. Therefore, we request both the media and the public to respect our privacy at this difficult time."
Regardless of one's preferences, people should exercise some control while expressing their opinion. Such uncontrollable hate might diminish your anger but it clearly shows what kind of a person you truly are. As the saying goes, to judge one's character find out how he deals with situations when he is angry.
What do you think of this story? Let us know in the comments section below.