Sajal Aly is a famous Pakistani actress famous for Playing many characters in a range of dramas-from social to romantic dramas. She is one of the cutest, most talented, and most energetic actress you can have in the industry and is one of the biggest assets of Showbiz.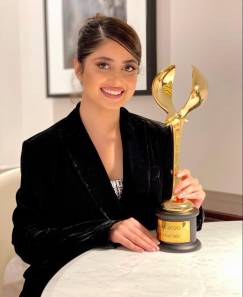 Sajal Aly Shared Her Thoughts on Lux Style Awards
Sajal Aly, recently took her Instagram stories to share her thoughts on the latest Lux Style Awards (LSA).
She highlights her commitment to recognizing and celebrating excellence in the Pakistani entertainment industry; She tagged Lux Style Awards and supported do acknowledged the work of stellar actors such as Mehwish Hayat and Zara Noor Abbas.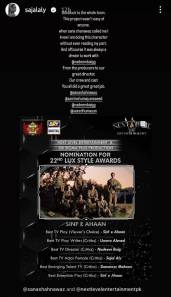 Sajal Aly wrote in her story, "Award shows are a great way to appreciate art and artists and to encourage us as actors. I request Lux Style Awards and their Judges to at least nominate those who have done some outstanding work".
Sajal Aly further said,"It is greatly disappointing to me as an artist that LSA routinely ignores other artist who is doing great work. For example, Mehwish Hayat who was great in London Nahi Jaongi. Zara Noor Abbas for Badshah Begum where talked about power and politics and Ushna Shah for Habs. Who exactly are the members of Jury, do they watch our shows even? Or do they simply choose who is popular? It is one thing to not win an award but to simply be ignored even if you have done great work is heartbreaking to not just one artist but to all".
Sajal Aly's stories have triggered discussion within the industry and among fans, reigniting the conversation about the need for comprehensive recognition of talent in Pakistan cinema and television.
Also Read: Perfect Selection! Sajal Aly As Umrao Jaan To Star In Adaptation's Eight-Part Series