Gone are the days when actors used to do movies holding a gandaasa and flaunting their Maula Jatt character. Today, actors work harder and flaunt their skills. Shaan Shahid is one of the most renowned and talented actors of Pakistan, he has done more than hundreds of films and has given some great hits to the industry. The Waar actor is known for his versatile acting and good looks that can make any woman weak in the knees. He hasn't only worked in blockbusters but has also worked with Lux, Pepsi, and Jazz which are few of the giant brands.
The Yalghaar and 021 actor is now geared up for his new film Zarrar that will hit the screen in 2019. Recently, we stumbled upon a post that Shaan shared on his Instagram and we kid you not he looks drop dead gorgeous! And actually is giving some Salman Khan vibes. That actor quoted: "Zarrar, getting ripped before acting"
The responses that the picture received were just wow!
Here are few…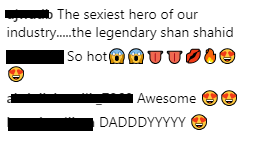 Possessive much?

Zarrar is an action-drama that shows the current circumstances of the country, Zarrar shows a patriotic man who loves his country and wants to eliminate those elements which facilitate terrorists and terrorism in the country. The movie is basically based on the life of a spy who struggles to save his homeland.
Zarrar is directed and scripted by Shaan who would be seen playing the lead role in the movie along with Kiran Malik, Nadeem Baig, and Adnan Butt. The film is produced under the banner of 5th Dimensions Films Association with Jehan films.
Here's the BTS of the film and it really looks like an action-filled adventure that gives some James Bond vibes!
View this post on Instagram
So, all of you Shaah fans out there, gear up for some action-packed adventure that your favorite actor will be starring in. The Khuda Ke Liye actor has never failed to impress us and he has really evolved through the years. Let us know if you look forward to Zarrar as much as we do, because from the cast to the location to the script – the film looks like the whole package!