Pakistan's largest and most populous city Karachi is in a wreck, only because of its authorities that have plunged the city into darkness. With most of the city's infrastructure crumbling, roads battered and mass-garbage-domination; the people haven't done justice either. Of course, not every single person in this city is to blame but there are quite many that can be held guilty; especially for breaking traffic rules.
The traffic of Karachi is enough to test anyone's patience, the constant honking, verbal-spats and the occasional minor accidents are all part of this metropolis city. However, with everyone ready to record everything and post it on social media for the world to see, this particular incident made it to everyone's screen as well.
A girl driving the wrong way in Gulshan-e-Iqbal misbehaved with the traffic police officer that stopped her.
This incident took place in the evening at Nipa Chowrangi near Chase Up store where a girl was coming the wrong way in her car causing a traffic jam and inconvenience. Moreover, when a Sindh traffic police officer stopped and inquired her, she got riled up and started to lash out on him using a harsh tone. According to the sources, she even pushed the officer.
The video of the incident that has gone viral:
کراچی: نیپا چورنگی چیز اپ اسٹور کے قریب کار سوار لڑکی کی رانگ وے آنے کی کوشش، موبائیل فون سے بنی ویڈیو میں دیکھا جاسکتا ہے کہ روکنے پر لڑکی نے ٹریفک پولیس اہلکار سے بدتمیزی کی اور دھکے بھی دیئے۔ اطلاعات کے مطابق ڈی آئی جی ٹریفک پولیس نے ویڈیو میں پیش آنے والے واقعہ کا نوٹس لےلیا ہے۔#Karachi

Gepostet von Karachi Alerts am Mittwoch, 23. Oktober 2019
However, the dispute didn't just stop there. The lady in question gets out of the car to kick a boy who openly started to record her; a kick that he will forever remember as it wasn't light. Whether her kicking the man that was recording her without her consent was justified or not; one thing is for sure that she was in the wrong here. Driving the wrong way causing traffic jams and potentially placing everyone's safety in danger is completely on her and being held responsible by the traffic police officer was him simply doing what was right and needed.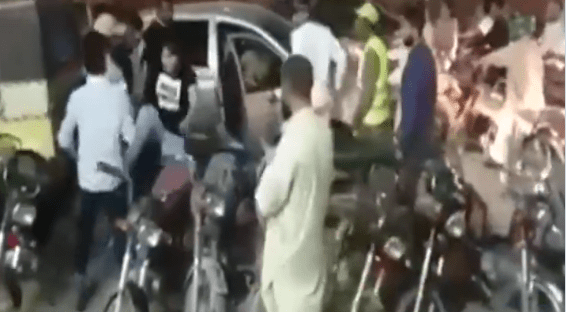 However, calling one wrong doesn't make the other right. In this case, the boy who was recording was definitely wrong. Recording anyone especially a woman without their consent is a criminal offense. But, the situation could have been handled in a much-civilized way; without having the need to physically harm someone.
She is among the countless people in Karachi that take wrong short-cuts that can be fatal if not for them, then someone who might get affected by their wrong driving. The way this particular lady was caught and held accountable (or at least tried to hold her accountable) should be staunchly exercised by the police.
Karachi's traffic is a nuisance and the people driving aren't doing any better by breaking rules. A strict punishment and surveillance system is the answer.
Do you think Karachi's traffic police are doing enough? Let us know in the comment section below!