As the wedding trends take over our society, more and more people are now looking forward to spending millions on their extravagant weddings these days. Let aside the wedding, the middle and lower class who can't afford such extravagant weddings have come under a lot of pressure to meet the societal expectations and to please them in whatever possible way they could.
Amidst all this, the real meaning of marriage has been forgotten and sadly, it is now all about glitz, glamor, designer joras, diamond sets and what not. It is indeed sad to be witnessing how parents of daughters start saving up for their daughter's wedding and jahez, the day she enters this world. However, this huge cultural and social pressure on families needs to end!
Speaking of wedding and dowry, the recent campaign led by our renowned faces of the entertainment industry took social media by storm! Almost every actor stepped forward to become part of this great initiative #StopJahezKhori. Many different celebrities from the world of drama, fashion, and films are taking part in this beautiful campaign against dowry.
Here's a quick look at some of our favorite celebrities!
Nabeel Zuberi
Juggun Kazim
Sana Javed
However, when it came to our newly-wedded couple, Aiman Khan and Muneeb Butt, things actually back-fired while the two lovebirds are on their honeymoon in Germany!
And Muneeb Butt too!
Here's what people on social media pointed out!
If double standard have a face #AimanKhan pic.twitter.com/sNfXMwk8hO

— Aks ? (@im_aks7) December 24, 2018
We have some really observant individuals out there…
Ab wo log bhi hamein baatein sunae ge jinki apni shaadi poora aik maheena chalti rahi thee… and the irony is that she turned off the comments after posting this..#stopthisnonsense #jahezkhori #AimanKhan pic.twitter.com/Mwd44VJvGq

— Hamza Nadeem (@IAmHamzaNadem) December 25, 2018
Instagram trolls went a little overboard with their comments and literally lost their cool!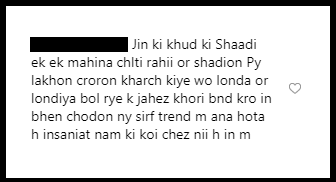 15 din ki shaadi and lakhon rupay?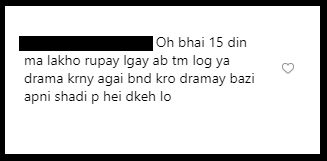 Double standards or what?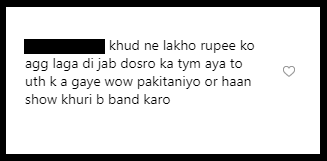 This person seemed utterly disappointed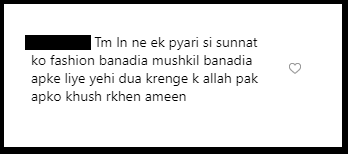 It's about time we bring an end to this practice that has even taken the lives of the innocent for coming under pressure and all that women had to face for dowry.
We need to look deeply into this and it's time we speak against it. Let's rethink on this so that every other person is on the same level and no one is thrown into the position where they have to think about "log kia kahenge" and burden themselves just to please our society that would never change no matter how much you feed it.