We hardly see Armeena Khan on television screen anymore. Pakistani film and TV actress, Armeena Khan, is one of the finest actresses of Lollywood. However, it has been a while since the viewers have seen her on the screens.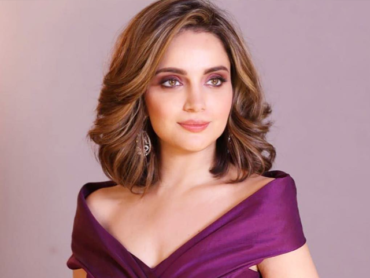 The Janaan actress has a massive fan following the country. Unlike many other celebrities, we see her using social media platforms to raise her voice on important issues.
Earlier today, she shared a picture on her Instagram.
Haters did not waste any time and started bashing her for her so-called 'inappropriate' dressing.

What a brilliant comeback she has given to him! The actress is known for shutting up the trollers and always speaking up.
Not so long ago, Armeena wrote a letter to UNICEF, demanding that the United Nations' subsidiary removes Priyanka Chopra as their goodwill ambassador, based on her jingoistic comments on Kashmir and against Pakistan. She is known to raise her voice against human rights violations in Kashmir, Syria, Palestine, and many other places.
She also indulged in the huge debate that raised on the release of Ertugrul in Pakistan. Although we do see her pretty active on social media, we have not seen much of her on the screen after her last movie, Sherdil.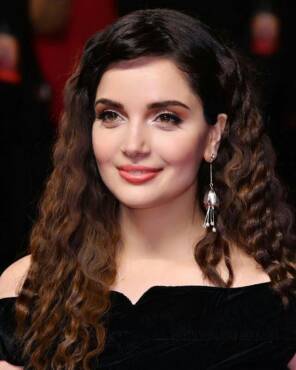 Did she quit the industry?
Also, under one of her Instagram posts, a fan raised the question regarding her career. One of her fans asked her why she is not doing any project lately. It is to be noted that Armeena was last seen in drama serial daldal which aired in 2017.

Here is what Armeena replied to the fan's query.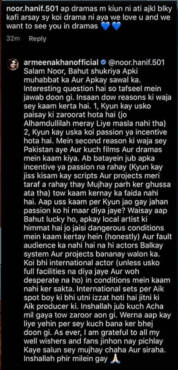 The widely popular actress believes that somewhere along the way she lost all the passion she had for acting. She further emphasizes that there are only two reasons for which a person works. One is for money while the other being for the sake of passion.
Moreover, she shares why opted for the acting career i.e. for passion. She further writes about how the kind of scripts and projects that came to her had killed her acting passion.
She shares her utter disappointment with the kind of conditions that an actor has to work in. In addition to this, she says how it is not the fault of the actors or the audience. However, it is the system and the project makers who are to be blamed.
"Koi bhi international actor (unless usko full facilities n diya jaye aur desparate na ho) in conditions mein kaam nahi ker sakta", says Armeena.
A few days back, she also replied to a fan on Twitter regarding why she has taken a break from the showbiz.
I'd love to play a strong, self determined female character. I'd literally love to kick some backsides in an action movie 😍 https://t.co/QBY0kljmn2

— Armeena 🦋 (@ArmeenaRK) July 14, 2020
Well, this makes it pretty clear that Armeena is not at all happy with the kind of conditions that Pakistani actors have to work in. In spite of that, the actress says that she might continue to work if a decent script is offered to her.
What do you think of this story? Let us know in the comments section below.