Dirilis Ertugrul continues to remain the talk of the town. As soon as people find about the show, the drama attracts more audience from Pakistan. People love everything related to Ertugrul, the characters, their lives, things revolving around it. Surely, everyone loves the title-track of the show as much as the show itself.
Ertugrul's title-track and theme song, so melodious, holds a much more powerful message than what we hear. The lyrics of the theme song are so powerful and chilling, that every Muslim needs to see them. Just as a lot of us don't understand Arabic in the Holy Quran, the same way, anything that isn't Urdu or English tends to be missed out as well.
For you, we've jotted down the lyrics of Ertugrul's theme song.
After the starting music, the lyrics say:
"Allah is Life. Allah is Truth. O nation, beware of tricks, prepare the horses! The Glory of Allah calls us! We will go into the Sea, and we will raise the flag of our Prophet Muhammad (PBUH)."
"Allah is Life. Allah is Truth. We will play the right of our Flag. We will bring the name of Allah to this World. Seek your goal, don't leave! Strive and prepare the Weapons! You will be glorified in Heaven!"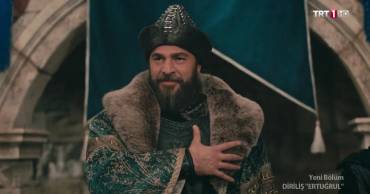 "Allah is Life. Allah is Truth. If the Universe goes against you, do not give up and seek Allah's help! Let the glory and history be repeated! Remind Hercules and Caesar (Roman Kings) of their defeat! Khyber has still not forgotten your attacks!"
"Allah is Life, Allah is Truth. Do not have mercy on Traitors in your country! Traitors are in the disguise as your companions. Our nation has suffered a lot. The Sun will Rise. And Jerusalem will be OURS!"
Read the translation of Ertugrul's theme song with lyrics
"Allah is Life. Allah is Truth. The tyrants will scream. And we will not compromise justice. And we will stand on our aim. Be patient, achieve victory even if the cost is Death.
Just like the show, the theme song and its lyrics are very beautiful, thought-provoking, and make you fall deeper in love with Islam. The Leo-Twins from Pakistan also did a great live cover of the title track.
What do you guys think about the theme song? Let us know in the comments below.