Faryal Mehmood is the rising star and her fitness transformation has already made waves amongst people. The Laal Ishq actress is very active on social media and we come across many of her talents. From her gym sessions to her singing to her acting – Mehmood simply manages to surprise us (is there anything she can't do?)
With her upcoming web series Enaaya, she has proved that she's a chameleon who transforms herself into absolutely any character, from a baybas aurat to a hardcore badass – she just fits into everything!
Recently, we rummaged her Instagram and found out that besides the above talents, Faryal has one more that she likes to flaunt. That my friends are her dancing skills which are downright stunning! So, if you're willing to learn how to groove on a beat, make sure to take some lessons from her.
Here's she dancing like a pro at Asim Azhar's Jo Tu Na Mila 
Just look at that energy, you guys! Isn't she simply terrific? Goals!! Also, have a look at what people had to say about this dance.
Look at these fans going gaga over her performance!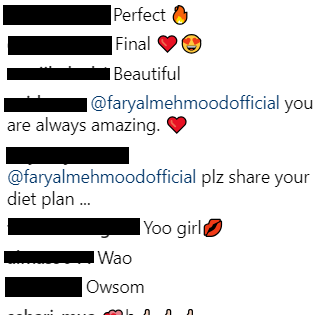 Here's more!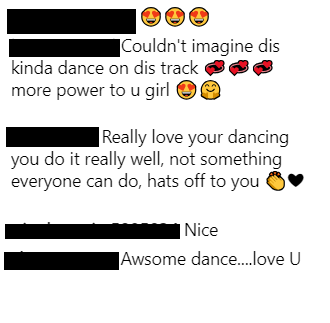 Although, there were some people who did not appreciate her work, take a look!
These users hated her moves!



Check these out too…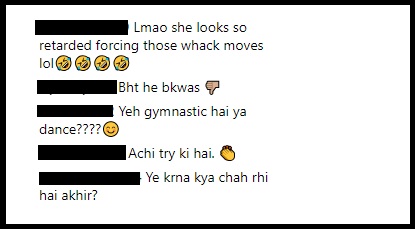 That is too much negativity…
We also dug further and found few of her more clips where she exhibited some steps that are worth checking out! Looks like if she weren't an actress, she'd certainly be a choreographer!
Check this out…
Here she is waltzing on this Punjabi number, Tere Jiya Hor Dis Da!
Over here, this diva is rocking on Malang, so cool!
This is plain adorable, check out how she did the exact same Kareena Kapoor steps here!
And finally, this Boomerang is pretty damn sexy! We're really impressed you know! Swear.
We think that Faryal Mehmood really rocks with her dancing skills but some users thought unlike. However, we'd like to know what you guys think about her and her performance! Some liked her work and others, completely despised her skills.
Let us know what do you think about her dancing skills – yay or nay? We'd love to hear from you so please leave a comment below! Love you all.