We all know who Faryal Makhdoom is, right? The wife of Pakistani-British boxer Aamir Khan happens to get a lot of attraction on social media based on her trendy style statements and of course, the dramatic relationship shared between the married couple.
Faryal has always been active on social media; regardless of whatever the rumors are regarding her personal life and she keeps her followers pretty hooked. The mom of two managed to gain a lot of attention today as well based on an internet acronym error and people are freaking out about it!
And Despite All the Drama In the Marriage, It Seems that the Two Have Managed to Move On from their Differences
So ANYWAY!
In some parts of the world, people are celebrating Mother's Day today. Faryal Makhdoom went on social media and shared a picture with her daughter, stating how grateful she is to be a mother. The twist is in the caption she posted online.
Faryal Makhdoom Called All the Mother "MILFS"
Well, if you've been on the internet for a long period of time, you'd know what MILF means. Here's the caption that she posted:
Blessed to be called your 'mummy'. Happy Mother's day to all you MILFs out there
Blessed to be called your 'mummy' ? Happy Mother's day to all you MILFs out there ? pic.twitter.com/5LjkaQxGvp

— Faryal Makhdoom Khan (@FaryalxMakhdoom) March 31, 2019
LOL everyone was shocked to read the caption on Faryal Makhdoom's picture.
Someone Even Shared the Meaning of the Word MILF with Faryal Makhdoom
what google told me about MILF pic.twitter.com/DwkYIackSg

— sarwar haseen (@haseensarwar) March 31, 2019
LOL
— s (@sanivaince) March 31, 2019
We Are Hoping the Same HAHA
Hope ur account is not hacked

— Imran Ud Din (@imran_Oden) March 31, 2019
Got Us All Confused…
Errr what is that caption? :/ pic.twitter.com/qq85M2GOhd

— سمعیہ (@saneschizo_) March 31, 2019
HAHA
Hahahahhaha someone told her the wrong abbreviation of MILF ??

— Khawaja (@MuhammadHasanAz) March 31, 2019
She later edited the Instagram caption and removed the world MILF from it.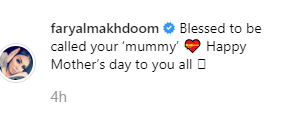 One wonders what is it that Faryal Makhdoom thinks MILFS mean…genuinely curious.
Other than that, there is always a confusion when it comes to celebrating Mother's Day and also on why people celebrate it on different days.
IF today is Mother's day, then a happy mother's day to all the "mother's" out there…just the mothers…and no one else…
Read Also: FARYAL MAKHDOOM APOLOGIZES