And here they go again!
The Pakistani YouTube couple, Sham and Froggy never cease to amaze their fans. The duo who got married earlier this sure love to stay in the limelight for all the wrong reasons. Well, because they love to prank each other in different ways!
Having almost two million subscribers on his YouTube channel, Sham really knows how to gather views. From controversies to pranks to YouTube wars, this couple has been up to so much. Sham and Froggy have been best friends for quite some time who then chose to marry each other. And ever since then, they decided to vlogs together.
However, a few months back, the couple announced the news of them becoming parents soon but they soon after they tied the knot. Even that became a huge controversy because people starting calculating days of their marriage. But after they had made the announcement and revealed the gender of the baby which later turned in to a prank!
Here's what Froggy decided to do!
Yeah, people thought it was plain stupid and insensitive of them to joke about the gender of their baby. Moreover, they found it unacceptable for them to be taking advantage of their unborn child for the sake of views and publicity.
Froggy's 'Baby Mama Dance' In London!
Here's a recent vlog of their's that has grabbed everyone's attention but yet again, for all the wrong reasons. The couple is currently in London and decided to dance on 'Baby Mama' by Starrkeisha for their fans!
You gotta check out Froggy's danec moves!
Once this vlog was up, it surely disappointed many of their fans and followers. Here's what they had to say!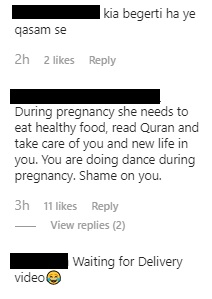 There were some who were advising her to pray, read the Quran and eat healthy instead of dancing around on the streets.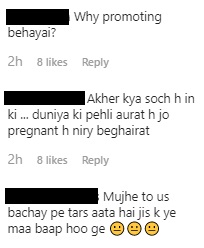 Well, it pretty much seems like this couple just wants to have fun and are beyond excited to welcome their baby into this world! In a world where there's so much negativity, we, as humans need to stop ourselves from passing judgements.
It's about time we let go of the negativity in us and remember that all these people are entertainers and that's what they're best at doing! What are your thoughts about their dance? Let us know in the comments below!