The internet's been a pretty happening place since the past few weeks and well, people seem to be enjoying it!
And for Pakistanis, Amir Liaquat's second marriage has been nothing but controversial. Let's not forget his controversial statements during the interviews. Just recently, Amir Liaquat and his Tuba were invited to Sanam Baloch's morning show where the couple revealed a lot about their life. From how they met, how they got married and the munh dikhayi.
The marriage has surely stirred a storm on social media and Pakistanis seem to be aggravated after Aamir married Tuba; without the consent of his first wife.  Well, things got even worse when Sanam Baloch asked as few questions and stated her opinions on the show that literally triggered many people!
Here's what she said:
Amir Liaquat responds why his first wife didn't accepted his 2nd marriage and criticism on social media by his own daughter.. #SamaaTV #Samaa #SanamBaloch

Posted by Subah Saverey Samaa Ke Saath on Monday, December 10, 2018
Did this trigger you as well? Thought so.
However, actress Hina Altaf, in response to Sanam's statement posted a message on her Instagram story and expressed her thoughts and she clearly seemed triggered!
Check this out!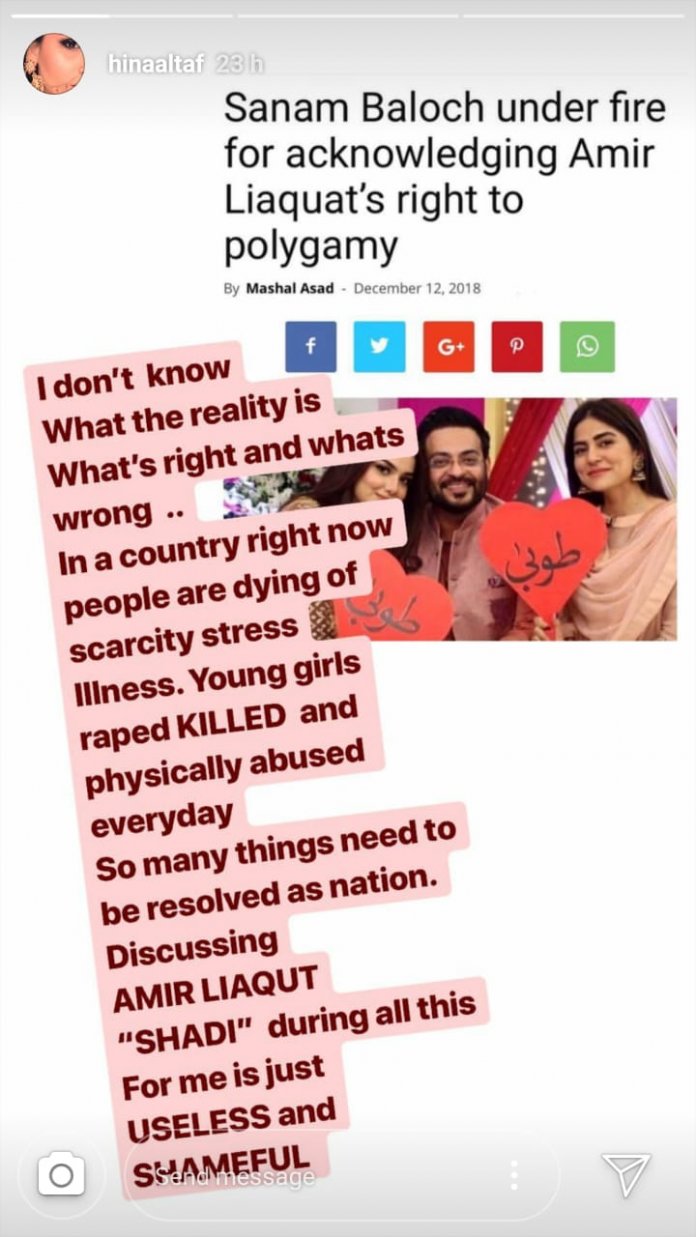 Well, that was something! We totally agree with Hina here and it's indeed saddening and appalling to see what morning shows are doing for the sake of TRP. Why would they stoop so low?
The people were furious on Facebook after Sanam's statements!
And wonder what was happening on Twitter? It was on fire!!
Sanam Baloch has joined the ranks of Amir Liaquat in cringeworthy talk show hosts!

— Anam Rathor (@AnamRathor) December 11, 2018
It was really insensitive!
Discovered that Sanam Baloch is so insensitive about a woman emotions when her husband marries another girl because "Akhir doosri shadi koi gunah thori hai".
She literally tried to portray #AmirLiaqauat first wife as an evil.#ShameOnHer

— AbdullahT (@AbdullaTunio) December 11, 2018
Clearly, it is just encouraging the person who did wrong!
Disgusting behavior by host #SanamBaloch and #AamirLiaquat.

The morning show host enouraged Aamir Liaquat to trash and discredit his 'first' wife. And then she proceeded to be sympathetic when he shat on his own children too.

And all the while 'second wife' sat and smiled. https://t.co/tDAT2hweeD

— Hamna Zubair (@hamnazubair) December 11, 2018
Playing the religion card here?
Amir Liaqat and Sanam Baloch using religion to justify his second marriage has got to be the most ironic fucking thing in the world. Also Sanam, if u're such an advocate of "deen" u wouldn't be bringing down a third party on ur show, when they're not there to defend themself.

— z? (@detachedstar) December 11, 2018
Deen just to get married. Nice.
All these men only remember DEEN for getting more wives.Religion has clearly said keep one wife if u cant balance between two or three.Where in Deen it says to leave ur 1st wife for a young 20yrs old? Its lust, affairs & betrayal.Shame on SanamBaloch & ofcourse lanati AmirLiagat

— Sarwat Najmi (@snajmi23) December 11, 2018
People sure seemed disappointed and it was something none of us were expecting. But we're glad how celebrities like Hina Altaf are aware of such matters and what is actually going around in the world.