Last week, Pakistani veteran actress Salma Zafar made some serious allegations against Javeria and her husband Saud Qasmi. She claimed that the husband-wife exploited the actors working under their production banner. She said for all the years she has worked for them, they have not paid her yet.
Owing to that incident, people have been bashing Javeria on Instagram for stealing money from the actors and increasing her own bank balance.
Javeria has been facing severe backlash and abuse on her Instagram posts. People were seen calling her 'chor', and 'cheap', and whatnot. Her vacation pictures and luxury life is being questioned on her every picture.
However, the actress has now reacted to all the allegations made by Zafar. Javeria said they have paid all dues of Zafar in advance.
"If we didn't pay her dues then she (Zafar) should have left the project way too earlier. Instead, she has worked with us for seven years," said Javeria.
She added, "Zafar has asked them to invest in some business which they refused. After which she released this accusation video."
"My upbringing doesn't allow me to make allegations on someone so I won't reply to her anymore."
Javeria receiving hatred on social media
However, in order to avoid all the negativity, Javeria has switched off her comments on Instagram. Javeria and Saud are now avoiding the public glare.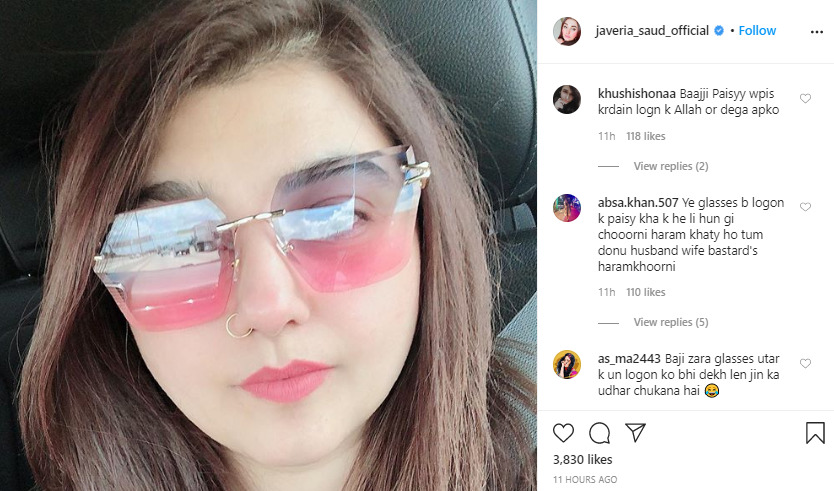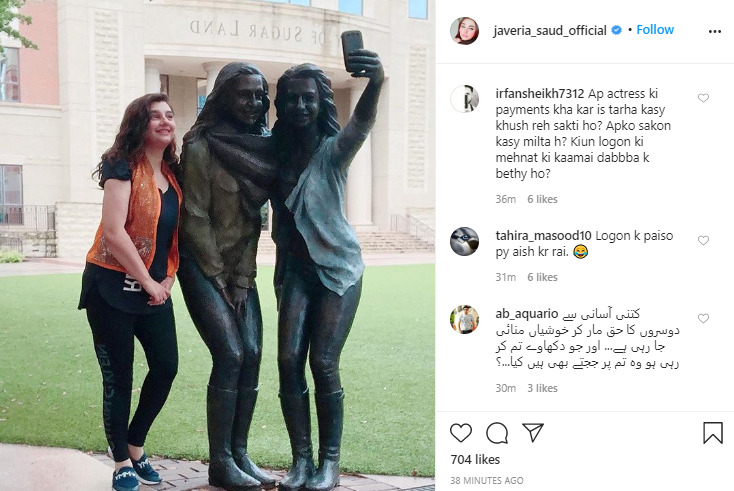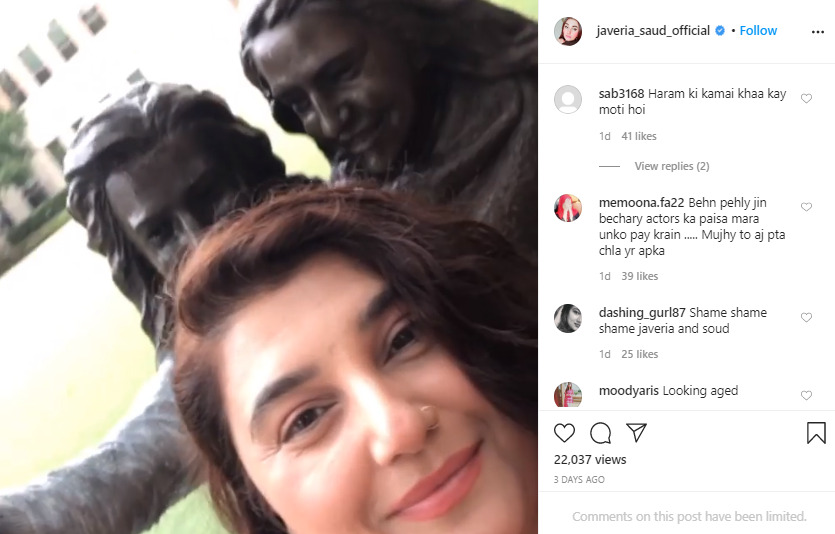 In a video, Zafar talked about how both have built themselves a luxurious house in DHA and luxurious life in illegal ways. She went on to talk about how she has worked hard day and night, and it is her right to get money from them.
"Na mere paas koi jhoot hai na koi siasat. Main defense mai sirf issi wajah say bangla leke nahi beth rahi kiunke main compromise karti houn. Mai sar jhuka ke nahi sar utha ke kaam karti houn. Aur aurat inn say sar utha ke baat karay aisa toh woh bardasht nahi kartay," said Zafar.
Zafar added, "Saud tum aurton ki kamai pay zinda rehne walay mard ho. Yaad hai na Umer Sharif ne tumhare galay say chain khenchi thi. Tumhari toh izzat hi nahi". 
The accusation made by the senior actor has shown the dark side of our media industry. It also highlights how powerful works and how much respect they give to seniors.
What do you think about the story? Tell us in the comment section below.