Pakistan has been under the spell of corruption and various other vices; mostly carried out and enabled by the former leaders of Pakistan. The country was labeled as a dangerous place to visit. However, times took a great turn for Pakistan when the incumbent government took over. Imran with his vision, charisma and honest leadership brought a great positive change among the leaders of the world, who finally see Pakistan as a country with immense potential.
After a long time, royalties and heads of several states decided to visit Pakistan which included the Saudi crown prince, Mohammed Bin Salman. Now, the British Royalties, Kate and Prince William have turned Pakistan's way. Everyone reminisced the late Lady Diana's visit on the eve of February 1996.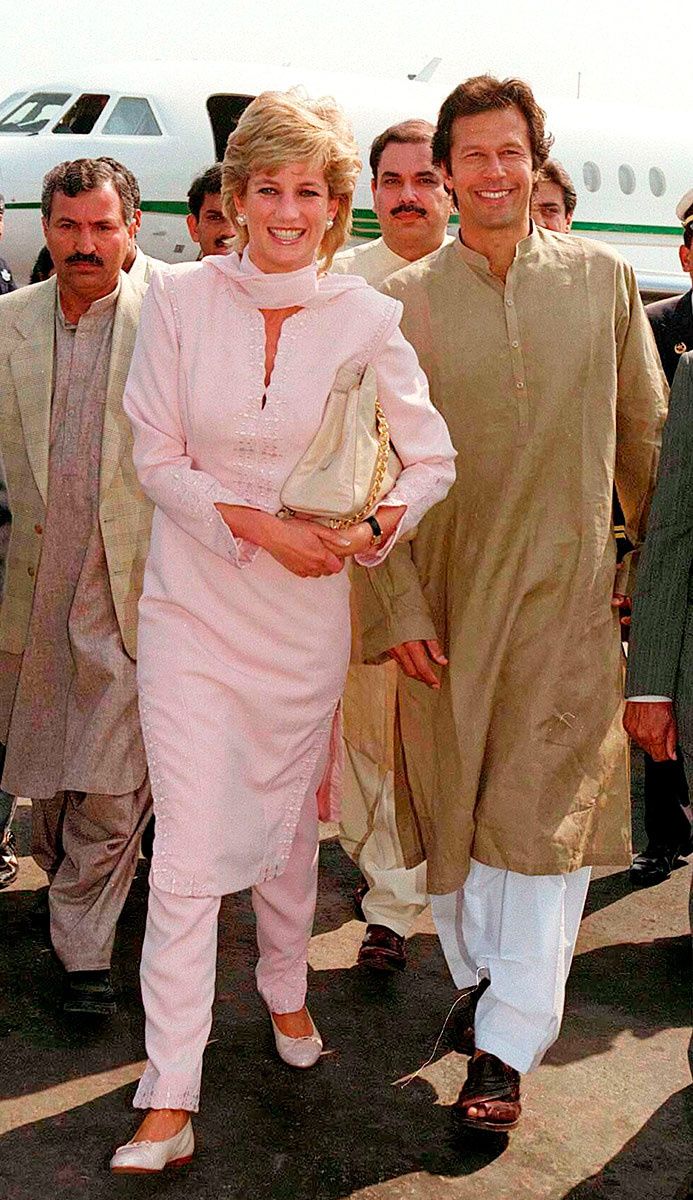 Duke and Duchess of Cambridge arrived late Monday evening bringing back the old memories of Diana.
The news of their visit in October definitely came as a surprise and for a while, it was just under speculations that they 'might' not visit after all. However, the royal couple touched down late Monday evening at Pakistani Air Force Base Nur Khan in Chaklala, Rawalpindi, Punjab, and Kate was a vision to behold. Their Pakistan tour has been marked as historic considering this is the first visit undertaken by any royal family member in 13 years.
And touch down #RoyalVisitPakistan pic.twitter.com/RJNIvVFLAC

— Chris Ship (@chrisshipitv) October 14, 2019
She donned a beautiful ombré dress with matching pants inspired by the traditional Pakistani dress- Shalwar Kameez. Kate definitely paid tribute to the late Diana as her dress bore a striking resemblance to that of the late princess who also wore a light blue dress.
Kate has paid homage to Prince William's mother on several occasions through fashion and this is definitely one of many.
"Simplicity is the ultimate sophistication." 🌸
They both proved 👏
Wearing Pakistan's National dress ♥ #RoyalVisitPakistan pic.twitter.com/5SktXOSoTW

— Maham Jameel (@maham_jayyy) October 14, 2019
History does repeat itself, after all.
history repeats itself.🇵🇰🇬🇧💕#RoyalVisitPakistan #RoyaltourPakistan #royalcouple pic.twitter.com/EEssgvqDoV

— Mudassar WaHaB (@mudassar_wahab) October 14, 2019
The biggest noticeable difference in both their visit is Imran Khan's presence at the reception. Diana was accompanied by Khan and his then-wife Jemima. But, the Duke and Duchess of Cambridge are scheduled to meet the now-Prime-Minister of Pakistan Imran Khan in Islamabad on Tuesday.
Both William and Kate have a busy five-day tour ahead of them that includes several visits to schools, colleges, charity events, and even the historical landmarks like Badshahi Mosque and Minar-e-Pakistan.
As of yet, Kate and Prince William attended Islamabad Model College for Girls tending to disadvantaged girls from 4 to 18 year-olds.
Kate chose to wear a classic blue kurta and pants by a Pakistani designer Maheen Khan for this visit.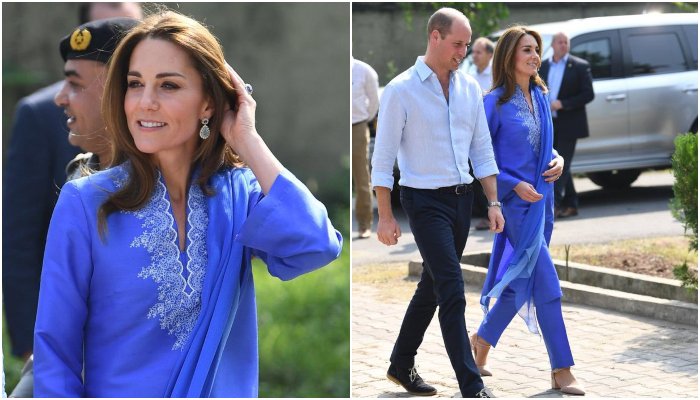 It's all in the details. Kate is definitely channeling Diana's Pakistan visit through these similar outfits.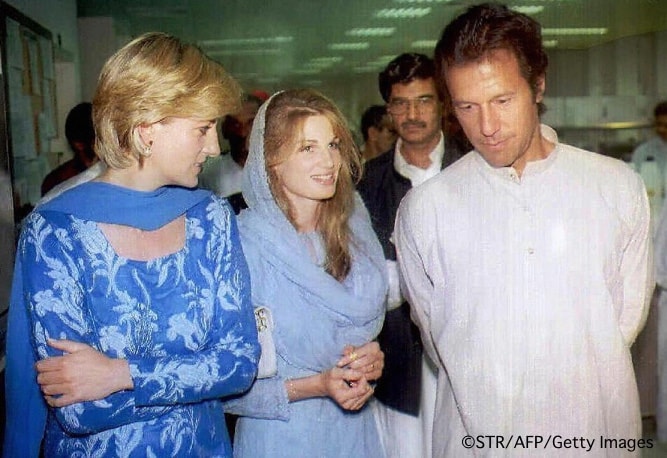 This Government run school benefits from the Teach for Pakistan program based on the UK's Teach First scheme. Kate definitely enjoyed her time at the Model college. The pictures from her visit rolled in on social media showing a jolly Kate engaging with the children.
The children's princess. She's so happy when she's surrounded by little ones 😍
The Duchess of Cambridge at the Islamabad Model college for girls.#RoyalVisitPakistan
📸: @ianvogler pic.twitter.com/3lSumd11FQ

— Isa (@isaguor) October 15, 2019
How beautiful!
#DukeandDuchessofCambridge leaving first engagement of the day after visiting a school in Islamabad to see how a UK project is helping to get teachers into the poorest schools. Expect lots of mentions this week of the unique bond between the Uk and Pakistan #RoyalTourPakistan pic.twitter.com/NcjQmJCzCt

— Rhiannon Mills (@SkyRhiannon) October 15, 2019
They are to meet the President and the Prime Minister of Pakistan today. Later, they are to attend a reception hosted by British High Commissioner Thomas Drew. Their successful visit will help boost a positive image of Pakistan across the globe. Hopefully, more allies and leaders will decide to pay this humble nation a visit.
Are you waiting for Imran and Royal couple meet-up? Let us know in the comment section below!