Beauty, over the years, has been associated with a lot of things majorly including clothes, jewelry and looks. But what if you ace all these departments? It might sound unrealistic because something has to go wrong each time. However, in a recent photo shoot of the Man Mayal actress, Maya Ali, set an example of how being beautiful in all possible sectors really looks like.
THE STUNNER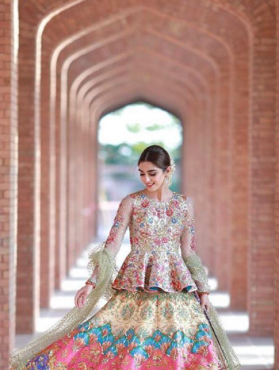 Well, the credit does go to her for being utterly stunning each time she shows up anywhere but there is someone else also who mustn't be neglected, the designer. The man behind the creation of the gorgeous dress was none other than the renowned fashion designer of Pakistan, Nomi Ansari. Ever since Nomi entered the industry, he has been creating magic with his clothes. You name it and he has it in his collection. He is no doubt a master of mixing & matching colors.
SHE LOOKS PHENOMENAL!
Maya Ali, the lucky Brand Ambassador for Nomi Ansari should thank the man for the amazing clothes that gave her the look of a stunner. Every inch of the detail is done so elegantly that it turned out to be artistic yet ravishing when put on. This was not the first time when the audience got to the see the gorgeous lady wearing Nomi Ansari, she has appeared in many fashion shows earlier for this popular fashion brand.
WEDDING DRESS INSPIRATION FOR the YEAR 2018
Although the photo shoot this time was a bit special as it won everyone's hearts, no one in the comment section of the picture could stop talking about how glamorous does she looked in the dress. This photoshoot was for Nomi Ansari's latest summer and spring bridal collection and he for sure, had chosen the right woman for the shoot. In case you are still wondering about which pictures are creating all the rage, then here you go. Have a look at how perfect everything looks!
IT SURELY IS BEAUTIFUL

EVERYONE LOVED IT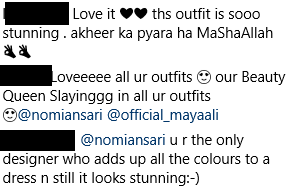 THE PERFECT COLOR COMBINATION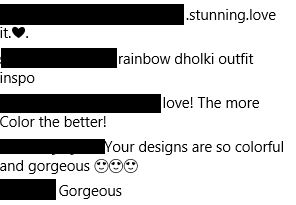 WELL, HEALTHY COMPETITION IS GOOD

MASHA'ALLAH

THAT LOOK IS GOALS

Everyone looking at the picture might pause and just keep staring at her because she does look that good. Her skills of carrying each dress and that pious attitude adds more beauty to whatever she is wearing.
EACH PICTURE OF THIS SHOOT IS MAKING MORE AND MORE PEOPLE LOVE HER
OH MY!
SUCH A PRETTY WOMAN
Keeping both the desi and modern fashion, Nomi did it with such class because wedding functions these days have reached a new level where everything needs to be nearly perfect or else its considered a failure. After seeing this photo shoot many must be taking notes for their upcoming wedding functions because who doesn't want to look like Maya Ali wearing Nomi Ansari. If you liked this article then like, share and comment down below to give us your feedback.