SLE, known as Systematic Lupus Erythematosus, an autoimmune disease you may not have heard about. SLE occurs when the immune system of the body attacks the healthy tissues by mistake, cause lifetime disabilities. Disability, no matter how big or small it is, causes numerous issues and spreads in the body.
When SLE occurs, it leaves it marks for the life.
This Happened with the 29-Year-Old Anum Who Has Been Bedridden for Life Due to SLE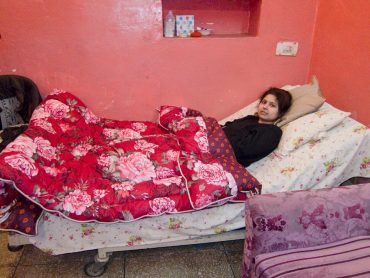 Anum from Lahore was diagnosed with SLE when she suddenly collapsed at the age of 16. After coming out of a coma, she was bedridden and has felt her life and condition deteriorating.
Osman Ghani Narrates the Following About the Condition of Anum:
I am a father of three daughters and I know and anyone who has children will know how painful and agonizing it is to see your child get ill or be in pain even for a day.

Anum is 29. She has SLE and has been bedridden for the last 13 years.

I met Anum in Lahore after we were informed by our project manager Fahed Israr about her situation. She was diagnosed with SLE after she collapsed when she was 16 and went into a coma. After she came out of coma, she was bedridden and her condition started deteriorating.

SLE caused her hip bones to collapse inwards thus restricting her movement and ability to stand without help. This also caused further issues relating to the use of a toilet.

Being bedridden for extended periods of time, she developed bedsores. Bedsores — also called pressure ulcers and decubitus ulcers — are injuries to skin and underlying tissue resulting from prolonged pressure on the skin.
Her immune system became very weak and any common disease that would normally last 3-5 days, in a normal human body, would last for months with Anum. For example, if she gets flu, it will last for months.

Hence she needed to take extensive medication for SLE, bedsores and any disease that she was suffering with. This caused ulcers in her stomach and skin rash on her chest and back. SLE can lead to cardiovascular disease and can kill women in their 20s by causing heart attacks and strokes. People with lupus also can die at young ages due to infections that are related to the immune-suppressing drugs taken to control the disease

Her condition is getting worse day by day and the only solution is if she starts to move and walk. Her doctors have suggested an operation which her parents cannot afford. They are extremely poor and can hardly afford her daily medication.

I would like to request any doctor who is reading this or if you know any doctor who specializes in SLE to PLEASE get in touch with me ASAP.
I have all her medical documents/prescriptions and tests for the last 13 years. I have scanned them all. I will email them so that we can get a second opinion on her case and if needed we can improve her medication or treatment.

We are raising money to get this beautiful 29 year old girl back on her feet, walk without help, enjoy and live life like a normal girl.
To Make a Contribution, Check the Following Bank Details and Links:
You can donate here :–
https://www.justgiving.com/crowdfunding/lovinghumansanum

or

Loving Humans
Account No 23725081
Sort Code 20-89-56

PLEASE SHARE THIS POST ESPECIALLY IF YOU KNOW ANY DOCTORS.