The social media was buzzing when the news of Marvia Malik was spreading everywhere like wildfire. Something that happened in Pakistan for the very first time, a private television channel called Kohenoor News went on-air with the first ever news anchor in Pakistan.
All appreciation for administration of #KohNoorTv for their initiative on Gender equality and taking a courageous step of bringing Transgender on Screen in a very positive role… Kudoos pic.twitter.com/GF50bmuX0c

— Fawad Hussain (@fawadchaudhry) March 24, 2018
Everyone Was Applauding the News Outlet and Marvia Of Course for her Brilliance!
#Pakistani News channel Koh i Noor airs first News bulletin with a transgender News caster. Hats off to the channel management for this great initiative. In December 2017 Pakistani Senate approved Transgenders rights bill that gave them legal status and protection. pic.twitter.com/uvunSHiQn3

— Farrukh Abbas (@Farrukh_Abbas12) March 24, 2018
Indeed! <3
So glad at the step taken by #kohenoornews channel – that have employed a transgender as a news caster. Brilliant step towards acceptance and inclusion of all Pakistanis regardless!

All the best to #maaviamalik

— Amber Zulfiqar (@Cheese_Pakora) March 25, 2018
And She Did her Job with Confidence!
Meet Maavia Malik, Pakistan's first transgender news caster. pic.twitter.com/K8q3V0Flhs

— F. Jeffery (OFFICIAL PIN) (@JefferyPIN) March 24, 2018
An opportunity like this ensures the key bill was passed in the Senate earlier this month – a bill that ensured the physical and sexual protection/rights of the third gender.
Under the Criminal Law Act 2017 for the Protection of Rights and Transgender Persons, punishments will be awarded to those who cause an offense to the safety and rights of the transgenders.
With Marvia stepped out and making her education and talent to better use, this indeed implements the importance of the passed bill even more.
However, Marvia's Road to Success Hasn't Been Easy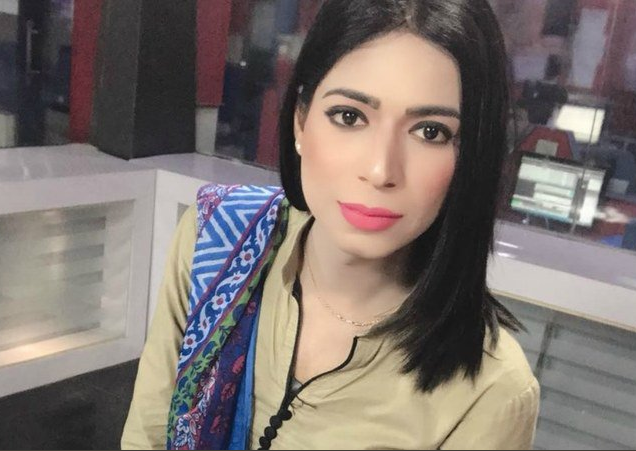 "The life of a transgender is full of tremendous difficulties and they are all leading the same life and facing the same challenges," said Marvia in an interview with The News.
Marvia completed her Bachelors in Journalism from Punjab University, where she was taught by professors who had faith in her and never put her down for being different. However, Marvia's family abandoned her and still hasn't responded to the news of her making her way to being a news anchor in Pakistan.
"Keep fighting and keep working hard regardless of what field you're working in. It doesn't matter if you're a newscaster or a driver if you work hard and be resilient in the face of hardship you can achieve success unquestionably."
Wishing all the best to Marvia on her first step towards success. We hope to see her and the fellow transgenders of Pakistan achieving more success in the near future one day!