Every now and then, a new trend takes over and everyone loses their mind. From The #IceBucketchallenge to now #WOKEUPTHISWAY challenge.
This challenge began in the west by a pop art blogger, Elaine Dane Shrad a very famous Instagrammer and a live show host at @fashionbylatteshow after Hollywood actresses, Cindy Crawford and Jaime King shared their morning selfies on their Instagram profiles. This inspired her to do the challenge and encourage others to also take part in this.
This is what she shared on her Instagram and within days this challenge became trending globally. Thanks to Nadia Hussain; she brought this to challenge all the way to Pakistan.
So, basically, all you gotta do is take a selfie first thing in the morning without makeup, filter and hair products, then post your picture on Instagram with the hashtag "WokeUpThisWayChallenge" and nominate a few other people to do this challenge.
Here's what Nadia Hussain had shared on her Instagram:
Along with uploading her picture, she further nominated Mawra Hussain, Mahira Khan, Sajal Ali and Ayesha Omar to participate in this challenge.
We were so happy to see Nadia Hussain sharing this with us and encouraging us to appreciate our true natural beauty until a few ladies kicked in with awful and heart-breaking comments…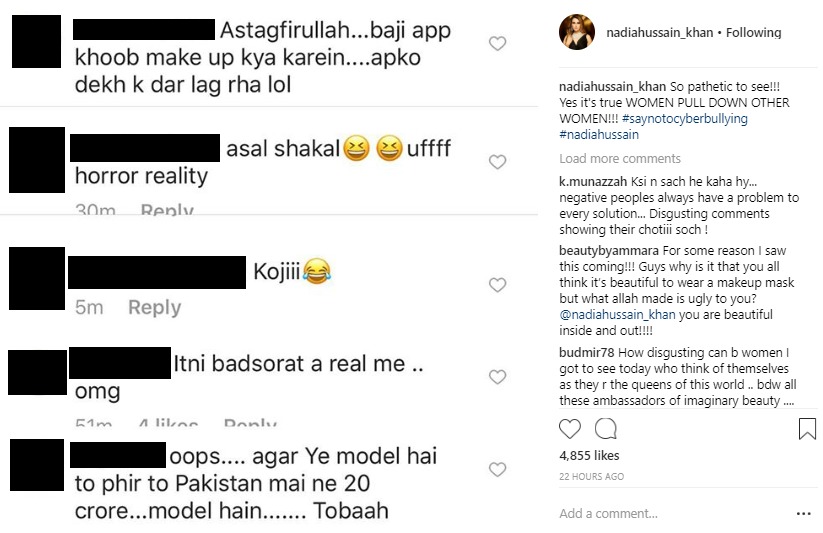 This is what Nadia Hussain had quoted while sharing these comments on her post:
So pathetic to see!!! Yes it's true WOMEN PULL DOWN OTHER WOMEN!!! #saynotocyberbullying
However, there were many many girls and guys who had supported her by appreciating her and to ignore all the haters.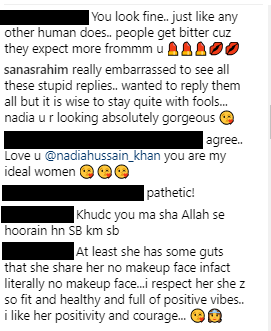 One of her fans even got extremely emotional seeing all the hate Nadia was getting and shared how bad she felt. Nadia shared that comment as a post and wrote on how happy she is to see people feeling empowered by such challenges and added that actual beauty is what we are made of in terms of intellect, hard work, personality and positive attitude above all.
More power to you Nadia Hussain and all the ladies out there who love and support one another no matter how harsh or rude the world is to them. What do you guys think of this challenge? Let us know in the comments down below.