Birthday is a very special day for almost everyone. May it be a celebrity or any individual birthdays are memorable and a great occasion. Likewise, it is always enjoyable for the public to see sweet intimate moments between celebrities as they share little snippets about their special day.
When it comes to Pakistani celebrities they always make sure to make the day memorable. Especially, when it comes to Pakistani celebrity couples. It is indeed adorable to see how each star shares their bond and love with their partners, may it be the newlywed Iqra Aziz and Yasir Hussain or Agha Ali and Hina Altaf, they make sure to share their happy moments with their fans.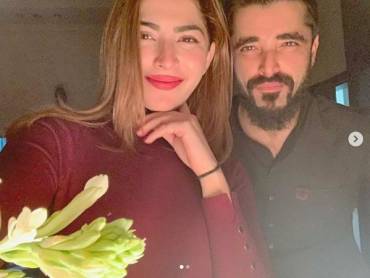 Naimal Khawer wishes hubby
Today on 23rd June 2020, is the birthday of our very own favorite CSS-aspirant, Hamza Ali Abbasi, and his wife Naimal Khawar made sure to make the most of it. She added in the caption about the kind nature of Hamza Ali Abbasi which she adores and loves. Not only was it adorable but it also reminded us of the beautiful bond these two have.
Naimal showered her husband with extra love on his 36th birthday. Truly, the bond between Hamza Ali Abbasi and Naimal Khawer is a beauty of its own. They both share their love for each other on social media which inspiring and a true testament of their love as they share lovey-dovey and cute captions with adoring selfies of each other.
Hence, on this special occasion, Naimal took to Instagram to celebrate her beloved husband Hamza Ali Abbasi's birthday by sharing an adoring ode and mentioning about how her life is much more beautiful with Hamza Ali Abbasi in it. She wrote:
"A man with a heart of gold, filled with so much purity," more so she captioned her ode with a picture of the former actor turned activist looking beyond at the sunset, by thanking him for being in her life.
"Thank you for lighting up my world every day. Happy birthday, my love"
And now we are swooning. When it comes to talking about celebrities and love, these two sure know how to make us swoon and awe with pride.
Wishing the two love birds a happy life
Naimal Khawer and Hamza Ali Abbasi have surely left acting and have settled down to a more subtle yet peaceful life. A little while back, Hamza Ali Abbasi had also shared his love for his lady love by saying that he is lucky to have her. Recently, the former actress is focusing more on her art and calligraphy which she mentioned is her passion. And Hamza Ali Abbasi posted that he was awestruck with her work, two years back when she gifted him calligraphy, he still is amazed and thankful how things turned out in his favor and he has Naimal as his wife.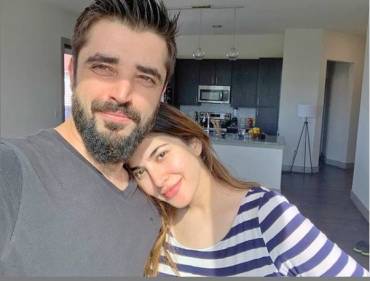 We sure pray and hope that you both have a lot of more moments and a very happy life together. And a very happy birthday to Hamza Ali Abbasi!
What do you think of the story? Tell us in the comments section below.