Noor Bukhari is a famous Pakistani TV Actress, model, and director. Noor has appeared in several commercials, Lollywood movies, and drama serials. Noor entered the showbiz in 1990 and since then, she has been proving herself and her work in the entertainment industry.
34-year-old and mother to a beautiful little girl, Fatima, Noor has finally decided to bring an end to her showbiz career for the teachings of Islam and said that she has finally found the 'right path'. In an interview, Noor said that it's high time she realized her wrongdoings and would look forward to following the teachings of Prophet Muhammad (PBUH).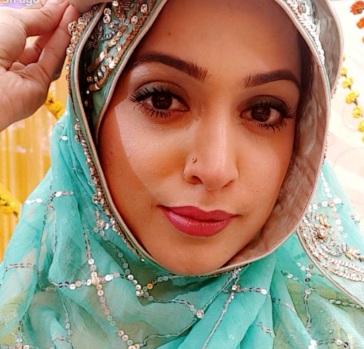 We think she looks beautiful in the picture! MashaAllah.
She further added that from now onwards, she would not perform in any films, commercials or dramas, and would only appear in religious shows and would continue hosting by wearing a hijab at all times. We know that many celebrities have left showbiz in the past including Ali Haider, Late Junaid Jamshed, Sara Chaudhry, Fariha Pervaiz, Najam Shiraz etc.
Here's how she announced it…
Yes it's true…bye bye showbiz world… pic.twitter.com/6iOU2m5i5Z

— Noorsays.com ? (@NoorBukhari) October 7, 2017
Noor's interview…
Here's are peoples' reaction to this news:
Masha Allah,,
Allah sabitt qadmi naseeb farmaye…

— Sawaid Khan Pakistan (@SudaiskhanKhan) October 7, 2017
Everyone was proud of her decision
Very very good mashallah

— Javed Mahmood (@jediiibhai) October 7, 2017
Masha'Allah…
MashaAllah Noor khuda ap ke ibadat kabool kara ameen….. khush naseeb log ap ka sat ta or raha ga… khuda huma b moka da ameen

— Raja Navd (@navdraja313) October 7, 2017
She'll be missed by a lot of fans…
masaAllah great step..

— murtaxa (@murtaxa_khan) October 7, 2017
Noor will surely be missed on the screens, however, we respect her decision and we wish her best of luck in the future. We're glad she's found peace and satisfaction after this decision of her's. May Allah bless you with the best. Ameen.