Mother's are precious creatures! They are the only ones who are cable of giving unconditional love and affection. No one can emphasis on the fact that how important they are. From the time the kids start saying their first words, to their first day of school. They are our first fan and life long cheerleaders. Do you remember anyone else being so happy on your convocation than your mother? She might be hiding her excitement a little to not look like a kid but you too get happy to see that smile on her face.
They say a woman doesn't really need much in life once she gets her child. She is ready to dedicate all her life and spend whatever is left to her. We often see our moms giving the best piece of cake to us and keeping as little as possible!
And when we win they are the first one to celebrate!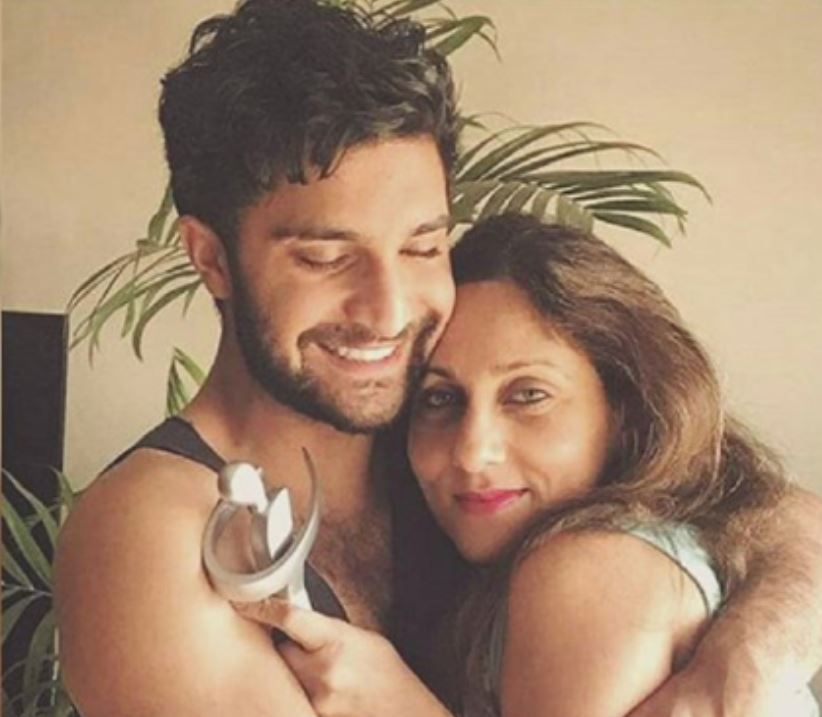 Mothers are cute like that! They are supportive, they are our first teachers, our friend, sometimes, cook, sometimes driver and all the other times a superhero!
This boy on Twitter wrote a similar story of his super mom and how he never takes offense being called a "mama's boy"!
His tweets went viral people read his this tweet followed by a thread: "My mom was pregnant with my sister when she applied for her job, my sister was just 2 weeks old when mom received her joining letter. She was a working woman for 30+ years. My dad had health issues so he took early retirement in 1996. Me, my brother and my sister all of us…" 
In our society women's role in a family is taken for granted, anything she does is her "job" and she is ought to do it!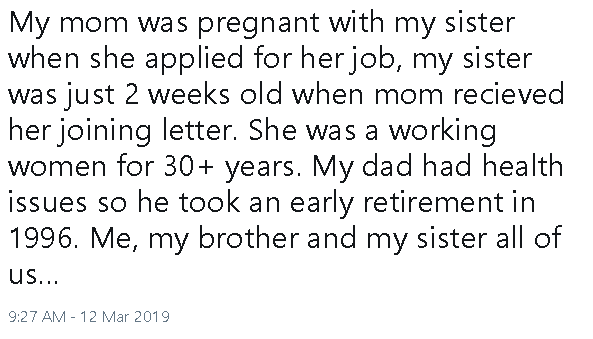 He told how it was his mom who gathered all the family problems and knitted them together to solve. She spent literally all her life just for the sake of her kid's education and well-being!
For mother's like these, there's nothing before their kids, not even their own health!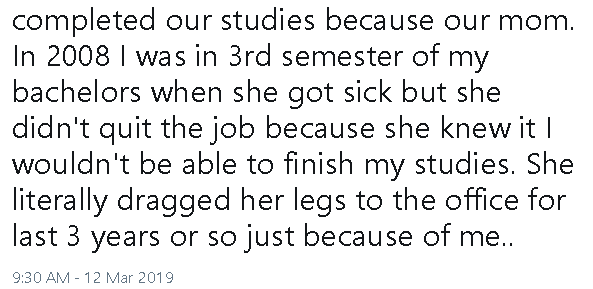 And then mother like her's do not have any wishes for their own selves! And then if someone asks you who deserves the most love, you should know the answer.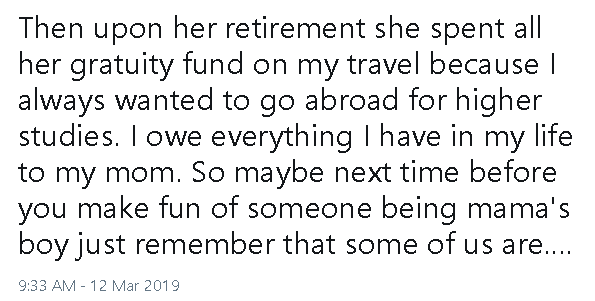 Why stigmatize boys for loving their mothers?! Mama's boy is the one who simply loves his mother and recognizes her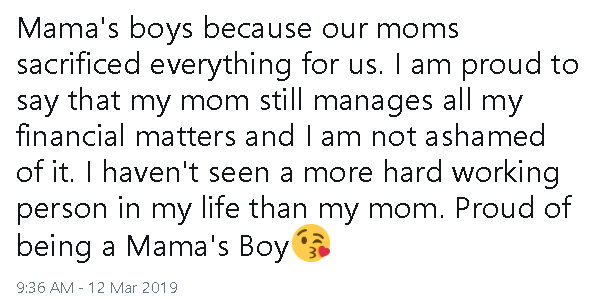 His point was quite valid and hard-hitting, mothers deserve all the love possible in the world. And it shouldn't be stigmatized if it's coming from her son or daughter. A mama's boy is just a son who's appreciative of his mother's efforts. Let this beautiful bond on mother and son flourish!
Have anything to add to this story? Let us know in the comments below! Cheers. 😉