Rabi Pirzada is a famous pop singer of Pakistan who launched her career with her first song 'dahdi kurree' which became a hit in 2005. After that, Rabi had released several songs such as Mujhe Ishq Hai, jadoo, and many others.
As bubbly as she may seem, Rabi Pirzada has been in the limelight for quite some time now. Well, not for the work she's done but other stuff. She's an avid pet lover and is famous for owning exotic pets including snakes! She broke the news of her love for pets on her social media accounts by posting tons of pictures!
Moreover, Pakistanis were furious after they saw her keeping exotic animals such as alligators, snakes, pythons and other reptiles, as they're prohibited. That sure has been an issue for all the other people who share a similar interest in owning exotic pets.
Rabi Pirzada with her pet snakes. Yikes!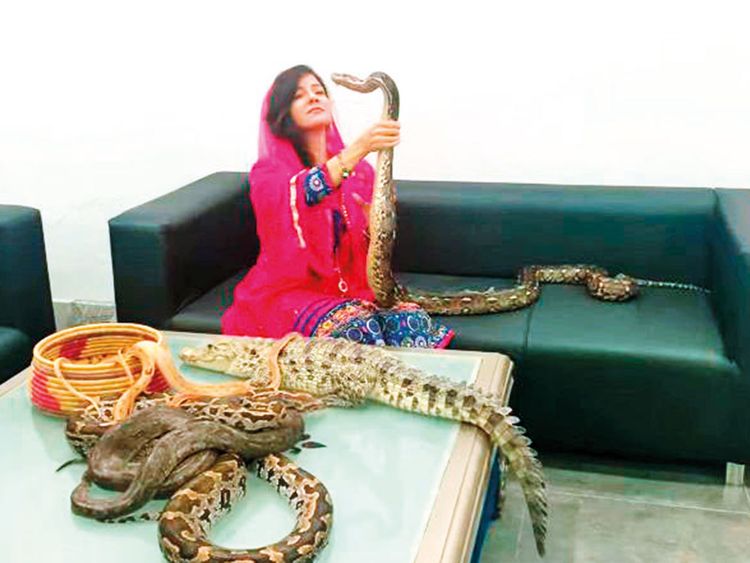 As much as she's known for being controversial, her insensitive posts on Twitter have truly left her confused. Many users have also reprimanded the Lahore-based singer for using social media irresponsibly and depicting a bad image of her home country to the outside world. And of course, this has happened numerous times, not just once.
In the past, Rabi has also had her Twitter account blocked for a short period of time due to her social media postings. But let's just say that Rabi has always been under fire for being straightforward and expressing herself a little too much.
Speaking of controversies, Rabi Pirzada has recently become part of another controversy where her personal pictures and videos were leaked. #RabiPirzada has been trending on Twitter and people seem furious! What's even better is people supporting this singer and blaming it all on the person who chose to this filthy act.
Here's what's going on!
@Piddi_gov #RabiPirzada
Leaked video kya mazra hai ye pic.twitter.com/PB6ooqOJt2

— U⤵️TURN MINISTER OF PAXITAN (@uTURN_MINSTER) November 1, 2019
We won't be posting more of her pictures because, at the end of the day, those are personal pictures and videos.
Looking at the other side, there are people claiming the pictures and videos of Rabi Pirzada to be fake and edited, whereas some can't stop bashing her for such obscene pictures and videos.
But the Twitter users went a little overboard with their comments and tweets!
Mai toh #RabiPirzada ko masoom samjh raha tha. Damn es dunya mai koi bhi masoom nahi yara. :p

— Dr Sohail Khan (@DrSohaiil) November 1, 2019
Absolute garbage!
Mai toh #RabiPirzada ko masoom samjh raha tha. Damn es dunya mai koi bhi masoom nahi yara. :p

— Dr Sohail Khan (@DrSohaiil) November 1, 2019
Some even sympathized with her…
Whatever happened with #RabiPirzada can happen to anyone or their families…we all have hidden aspects of personal lives
PLEASE PLEASE LET IT GO IGNORE IT n learn some lesson from it to avoid such life destroying incidents… kisi k aaib per parda dalo Allah apka parda rakhay ga https://t.co/IAxHKveAkD

— Persona Non Grata (@ReverseTweep) November 1, 2019
No one deserves this!
What happened to #RabiPirzada shouldn't be highlighted nor the content should be supported or distributed.
It's her personal life and personal choice who she shared the content with and it was break of trust by the person who leaked it & should be treated as a criminal offense.

— Virus. 🌈🌱 (@i_ahmedd) November 1, 2019
Knowing how people can stoop so low is just sad…
Revenge porn can ruin any woman's life. Are there no ways to find out where the R-Pirzada stuff was leaked from and by whom? Its so fucked up!

— Fariha (@fay_alif) November 1, 2019
Wrong on so many levels!
One of the reason why people of Pak should come out on the street is to stop this blackmailing of our society

We know who in our society can stoop to this level

After Judge Arshad Malik now it is #RabiPirzada

My sympathies for Rabi

— Dr. Afnan Ullah ڈاکٹر افنان اللہ خان (@afnanullahkh) November 1, 2019
We, as a society, need to understand and respect others' privacy and need to stop defaming people by using their personal pictures and videos – in short, invading their privacy. Remember, everyone has personal space. And strict actions should be taken against the person who's behind this after investigating the matter.
What do you think about this? Let us know in the comments below.