Saba Qamar, one of Pakistan's most popular and highest-paid actress. Born on April 5, 1984, in Lahore, Punjab, Pakistan. A person who just can't be contained in a box. After making her name in the local industry, she even moved on to make her name known in Bollywood, and she achieved to make her mark there. Saba co-starred with famous Indian actor Irrfan Khan, who praised her performance in the film 'Hindi Medium'.
Recently, she shared a picture in which she shows that she has a tattoo on the back of her neck. Whether the tattoo is for an upcoming movie or it's a personal liking, people, however, people have had reacted with a love-hate reaction. As sensitive the subject of having tattoos is here, people do react to it with complete passion.
Have a look at the tattoo, which appears to be in a foreign language, yes we all want to know what it actually means.
Here are some hot and cold comments, starting with some cold ones which are the obvious ones…

Some talking among themselves and stating the obvious…

Some people did end up loving the tattoo and were quite curious about what it's about and what language it is. WHAT IS ITTTTT???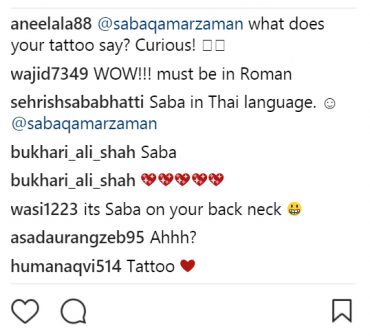 Have a look at it yourself on her Instagram. Pictures that she put up and made people go crazy. This particular picture has her neck tattoo exposed along with her standing next to an inspirational quote…
Saba Qamar is among those great actresses, whose charisma and talent cannot remain contained. And it is indeed fact. We really can't question her skills.
What do you think about this? Let us know in the comments below!