It's amazing to see how many celebrities have tied the knot with each other from our Pakistani entertainment industry! From Danish Taimoor and Ayeza Khan, Iqra Aziz and Yasir Hussain to Aiman Khan and Muneeb Butt and literally so many more! Where couples are tying the knot on one hand, it's heartbreaking to see that some are parting ways on the other hand.
We all know that Pakistani model Sabeeka Inam had been dating model Hasnain Lehri for quite some time now and also, that they were pretty vocal about it. However, we were just waiting for them to announce the big news soon! It did happen. Sabeeka did announce something big but sadly, it was nowhere close to their marriage but it was about their split!
God, they made such a beautiful couple!
Sabeeka Imam took this to Instagram and officially announced how things couldn't work between the two and how they both tried to make things work.
Her graceful words after the split is literally winning hearts! Here's what she wrote!
"T H E E N D
And so this journey officially comes to an end. It has been a long time since we both realised that our paths are destined to be separate. After multiple attempts and much consideration we have called it quits. I am sharing this on social media because I'm tired of answering questions about my status and going through interrogations about why. I'm tired of people's opinions and involvement. I'm tired of pretending that things are ok so that I can keep a facade going. I'm tired of people assuming that I'm engaged or getting married. There was a proposal but unfortunately it did not materialise due to irreconcilable differences. I would like to request everyone to just let this difficult time pass as our friends and families are involved and I don't want them to go through any further pain or disappointment."
She also posted a story  on her Instagram which said, "Game Over – The End"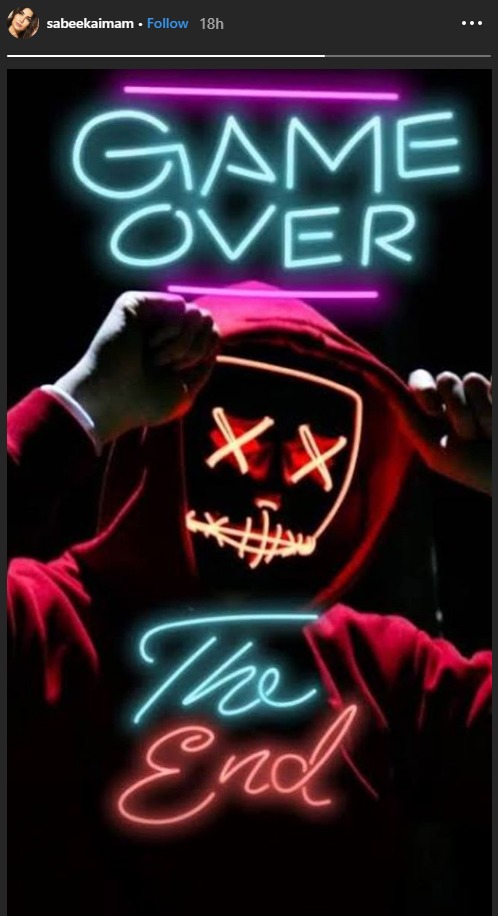 Just a few days ago, Aamina Sheikh and Mohib Mirza had also called it quits after 12 years of marriage which turned out to be super shocking for the most of us. Well, we really can't control God's plans now can we?
As for Sabeeka, it definitely takes lots of strength to publicly declare your truth in a society like ours where women are mostly shunned for decisions like this. More power to Sabeeka for opening up and being honest and let's say real in front of social media. Sabeeka, hang in there. You're really strong!
Have anything else to add to this story? Let us know in the comments below!