The 21st century is the time of the bold, loud, confident and progressive females. It's also the era where issues pertaining to mental health and body image are openly discussed, awareness drives are carried out and support systems are built. Coming to talking about someone's body in specific, I wouldn't say that men do not face it, however more often it is the women mostly on the receiving end of the criticism.
Somehow somewhere we went wrong in portraying the perfect image of how a woman should look like making everyone believe that to be the standard of what beauty is. Discussing someone's body can torment someone psychologically leading to depression and suicidal thoughts but on the bright side the victims are speaking up about it.
Lollywood star Sana Fakhar who has worked in drama as well recently shared her before and after pictures on her Instagram and had a great message to share.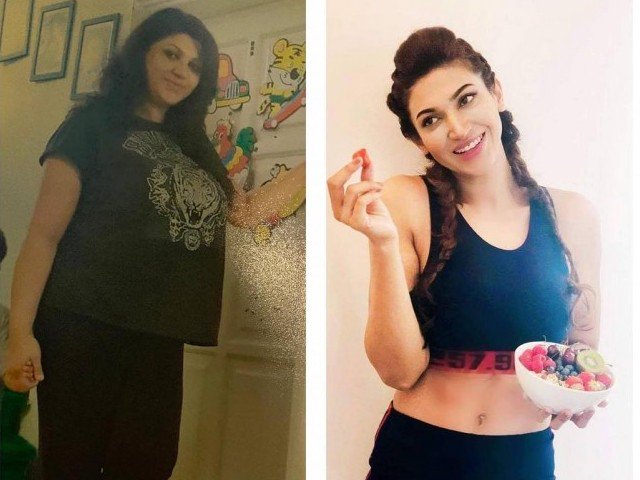 "Why do we have double standards!? Size Zero, 4, 6 or else, why do we have to put a number upon & against people? Why do we have to have to judge everything & everyone against a single standard or benchmark of our own? Why in certain cases, people come out & defend others against body suggestions, while in others, they won't? Why can't we let others live & cherish life in their own skin & be comfortable in who they are?"
Sana continued advising her followers saying "Have always believed in living a healthy lifestyle in being & loving who you are. There would be days when we are overweight, thin or overwhelmed with emotions, enjoy each passing moment, nevertheless. Always trying to motivate others, exercise to have an enjoyable life, instead of being only thin; let them enjoy a lifestyle of fitness, which is a comprehensive lifestyle statement, not just limited to weight. Our goal should be to encourage others, achieve whatever they want in life. It's not about a particular shape, size or else; it's simply being able to love & enjoy life as you prefer, full of energy & spreading positive energy, whoever you come across in life. #stopbodyshaming #lifestyleoffitness"
For all those who are suffering from being body shamed should find solace and motivation from Sana's message and march ahead in life without any concern about what others have to say about your body and appearance.