Back in the day when there were no emails, Whatsapp calls or social media, people stuck to letters and notes to proclaim their love for one another. Today, however, things have taken a drastic turn and technology has gotten the best of us.
People now stick to calls and text messages to wish their partners. Although, this loving wife went an extra mile just to make her hubby happy. Scroll down to read more on this modern love story that is no less than a fairytale.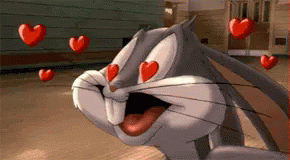 Hiba Iqbal who lives in Abu Dhabi wished her husband Ali Farooqui who resides in New York with the cutest way possible. With a little help of few of her social media friends, Hiba managed to get people from across the globe to wish Ali 'Happy Anniversary' with a tiny love note.
They later sent those notes to her and she picked forty amongst them and sent those to Ali via his cousin.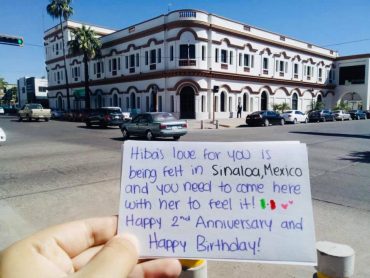 Hiba stated, "So basically this was our second Wedding Anniversary. The love or arranged part is too funny! It's somewhere in between. He is currently residing in New York, the USA and I'm in Abu Dhabi, UAE. He managed to come to visit me for the first anniversary but this year we couldn't make it, unfortunately, so I decided on doing these notes all around the world as many as possible.
The whole anniversary thing this time was too crazy for me thinking how could I make him happy being away, luckily I had a short trip to Karachi while his cousin was visiting too from States and all the goods were sent through her to him while I managed to do this on social media. It took me around 2 months to gather these notes."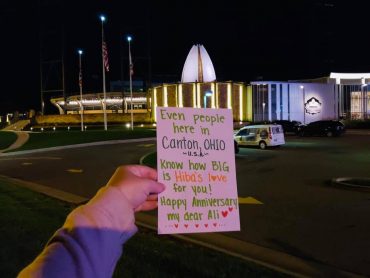 She also told Parhlo that her husband was blown away with all the affection, effort and consideration of his loving wife. According to Hiba, since they are oceans apart – she had to think more than usual on how to make it up to him for not being there physically and she's a firm believer that distance makes the heart grow fonder of your loved one. She said, "I just wanted to make sure to make him feel like I am already there"
This may sound a little too cliché, but love really does make you do things that you never thought you were ever capable of doing! You need to click here to find out what this loving wifey did for her hubby who's far away from her:
Aren't they adorable? Do you have a cute love story to share with us? Inbox us!